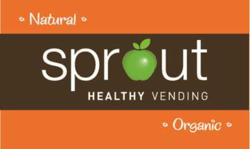 I want to make it easier for people to grab a healthy snack when out. It's an option that hasn't been available before in my community, Erica Gudelsky Winton
Irvine, CA (PRWEB) March 31, 2013
Nutrition in schools has become a big concern in Maryland, and parents are taking a strong stand to implement healthy food and diet awareness in their communities.
In Rockville, MD, specifically, one parent has decided to participate in this challenge and partner with Sprout Healthy Vending to provide schools and local establishments with healthy snacks and drinks. Erica Gudelsky Winton set out to get involved with a hands-on business that would make a difference, and knew Sprout was a great chance to do so.
"I love the idea of making it easier for people to live well and I was seeking the opportunity to build a business that makes that difference," she explains. "The concept is simple and amazing-partnering up with the community to provide natural and organic snacks to active and busy people."
A mother of four girls, Gudelsky Winton was surprised at the lack of healthy vending in her community, and was frustrated that her youngest daughter had no healthy snack options at her high school.
"I'm very excited to offer healthy products in my community. It's the way I live my life and I encourage my daughters to do the same. I want to make it easier for people to grab a healthy snack when out. It's an option that hasn't been available before in my community," Erica says.
Erica is one of many concerned parents who are looking to make healthy changes and work towards improving school nutrition. Recently, Maryland's community news site, Gazette.Net, featured a story on a Montgomery parent group, labeled Real Food For Kids, and their mission to educate parents and kids on foods available at schools. Eventually the group wants to see all unhealthy items removed from schools completely, including those in vending machines.
Sprout Healthy Vending Co-Founder Chris Wyland states, "When a strong support system is already established and people are already wanting to make a healthy change, it creates the perfect opportunity for Erica, as our newest ambassador, to come in and challenge schools and other local establishments to take a step in the right direction."
Sprout Healthy Vending is considered to be a "Social Wellness" business that benefits communities by providing the largest selection of name brand, natural and organic products-including healthy drinks, snacks, yogurts and smoothies. Menu plans are developed by licensed dieticians to ensure the products in the machines meet even the strictest National, State, and Local nutritional guidelines. Sprout Healthy Vending is a beneficial business opportunity for the health conscious entrepreneur.
"Making better choices benefits the health of our community, whether it's in the workplace or around town and on the go. We all want to live long and healthy lives! As a parent, I know that we don't want to fill our children with excess sugar and additives; we only want the best for them," Erica continues.
Erica and her family do their best to maintain healthy lifestyles. After having children, she made sure to incorporate as many natural and organic foods into her family's diet as possible. Her and her husband participate in 10k runs in their Rockville community, and being an advocate for healthy living is a passion of hers.
"Teaming up with Sprout was an easy choice because I believe in their goals for natural and organic vending for people on the go," Erica explains. "I chose to work with Sprout Healthy Vending above all other companies. Sprout has focus on what healthy vending is and should be. To me, it's quite simple, offer the best high quality natural and organic products, and that's what Sprout does. I'm proud to be a small part of that."
About Sprout Healthy Vending
Sprout Healthy Vending provides state-of-the-art vending technology, thousands of healthy and organic products and turnkey customer solutions for over 130 regional operators across the United States. To learn more about the company, locations and products please visit http://www.sprouthealthyvending.com or call (800) 450-7648.