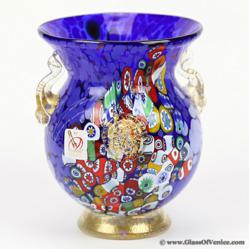 New colorful art glass vases from Venice, Italy available on www.GlassOfVenice.com
Glen Rock, NJ (PRWEB) March 29, 2013
GlassOfVenice, the famous importer and distributor of Authentic Murano Glass, announces the arrival of new art glass vase collection straight from Venice, Italy. Featuring rich colors such as amethyst, blue, pink, aquamarine, along with trendy designs, artistic forms, and opulent touches like 24K gold dusting, the new Murano vase collection is certain to give style-conscious customers lots of spring makeover ideas.
By spring many of us get tired of the cold weather, muted colors, same old interiors, and bleak surroundings. We often desire to introduce instant change as the weather turns warmer and the mood brightens, but from practicality standpoint it may be too difficult to do a complete home makeover. New colorful art glass vases from Venice, Italy available on http://www.GlassOfVenice.com offer a great way to bring the fresh breath of spring winds, Venetian sunlight and blooming flowers into our homes without changing much else.
For years GlassOfVenice has been working hand-in-hand with the best glass masters on the island of Murano to put their beautiful masterpieces within a touch of a button from the wide audience of Murano Glass enthusiasts around the world. Many Murano glass-making families have been in this line of work for generations, some going centuries back all the way to the middle ages. Using complex glass-making techniques such as Millefiori, Filigrana, Lattimo, Sommerso, Avventurina, Bullicante and more, Murano masters create art glass vases and other pieces, which are so unique in their artistic qualities that they often attract attention of the best museums and important private collectors worldwide. Each vase is created entirely by hand using ancient methods and traditions and only very basic tools, in simple workshops where nothing overshadows the talent and skill of the glass master.
With its new spring collection of Murano art glass vases, GlassOfVenice once again brings sounds, colors and lights of Venice to its customers worldwide and offers a wonderful way to welcome spring into our hearts and homes.
About GlassOfVenice
GlassOfVenice is a U.S.-based company focusing solely on direct import and worldwide distribution of authentic Murano Glass. The company was founded by visionary businessmen with passion for Italy and Venice and appreciation of Venetian artistic heritage, which is today best seen in its famous Murano Glass. GlassOfVenice imports all its products directly from Venice's artisans and offers the full range of Murano Glass produced by the Island's artisans from jewelry and accessories to tableware and home décor, including vases, sculptures, and chandeliers. The products can be purchased on the company's full-featured and user-friendly website http://www.GlassOfVenice.com. Paypal and all major credit cards are accepted and worldwide shipping is available from the U.S.-based warehouse.