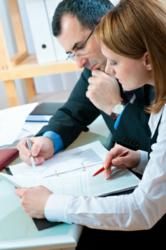 HR Strategies simply believes that continuing education is one of the major keys to staying ahead of the game, especially in the world of HR.
Duluth, Georgia (PRWEB) March 30, 2013
HR Strategies just wrapped up another successful Management Training Session, an event they hold once a quarter for their clients and prospects. This event, which is always complimentary to attendees, was the first of four sessions they will hold this year. These trainings educate clients on hot topics in the Human Resource industry as well as any current events or laws passed that will affect the client's business. This training session, entitled "Health Care Reform: What's Next?" went into great detail about what clients can expect in the coming months from the Health Reform changes and updates. HR Strategies assists each client individually to reduce hassles, fees, and hardships the Act may incur.
Not only does HR Strategies educate their clients, they also put a great deal of emphasis on keeping their internal employees current on what's going on in the field of Human Resource Administration and Consulting:inclusive of but not limited to employee benefits, client services, retirement planning, payroll , and worker's compensation. They do this by sending their internal employees to seminars and conferences that keep them on their toes, educationally speaking. The PEO industry doesn't require the internal staff to have a certain number of education hours per year, like what is required of a nurse or an EMT; however, HR Strategies simply believes that continuing education is one of the major keys to staying ahead of the game, especially in the world of HR. With a vast array of laws and regulatory changes occurring so frequently, it's important for HR Strategies' internal staff to stay educated.
Last but not least, HR Strategies holds monthly "Lunch & Learns" for all internal employees. Topics range from time management, to health and wellness, to other important HR updates. These monthly sessions are only an hour long, but the benefits are lasting. Whether they bring in an industry professional to discuss changes in 401(k) laws, so that the internal staff will be better able to discuss retirement planning options with clients; or they have their internal Training Professional discuss time management techniques: HR Strategies is dedicated to staying on top of all aspects of the Human Resource industry. By training their employees on both industry related topics and personal topics such as stress reduction and time management; they are ultimately increasing productivity in the workplace. That productivity is translated into efficient and knowledgeable interactions with clients, making their clients lives easier.
About HR Strategies
HR Strategies provides the customizable HR Solutions (including but not limited to payroll, benefits, workers' compensation, tax administration, regulatory compliance, HR consulting, training solutions) and expertise of a large corporation's personnel department in an affordable and effective solution. HR Strategies enables clients to reclaim time, stabilize and reduce labor costs, and stay compliant with government regulations.