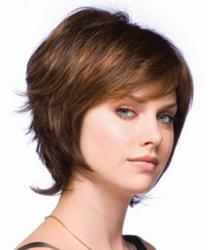 Los Angeles, CA (PRWEB) March 30, 2013
When a woman gets treated for cancer, chances are she will lose hair due to chemo treatments which kill off all rapidly dividing cells, and that includes hair follicles. That puts most women being treated for cancer in the market for wig. But changes in the way cancers are treated are underway, and in the next ten years we will likely see the end of hair loss and traditional chemo treatments for cancer.
I spoke to internet pioneer, Joseph Aronesty, president of WigSalon.com, which has been selling wigs to women online since 1996 and in their salons since 1969.
"About 30% of wig sales are for women that lose hair after chemotherapy for various cancers, and in particular breast cancer. When Joseph got his own version of a malignancy, a fairly indolent form of a serious lymphoma, he had to weigh the same options that he had seen his clients going through for over 30 years. Then, a clinical trial opened this January for something called targeted therapy. You don't lose hair, you hardly even feel sick from it. The idea is to attack only the wayward cells by targeting them, and leave the rest of your body alone. It was a remarkable success for me. Three infusions was all he needed and now his PET scan shows no activity at all. Thankfully, the scientists over at Seattle Genetics are working on this."
Now, breast cancer may soon be treated this way. Seattle Genetics now has submitted for an investigative new drug that should work in the same way that Josephs therapy did with minimal side effects. They call the drug SGN-Liv1A. And that's good news for women everywhere. Will it affect the wig business? It's a few years out; but yes, expect wig companies to diversify a bit. There are plenty of other reasons that women wear wigs too. One thing is for sure, Joseph doesnt seem worried one bit and is very excited about these new treatments.
The good news is that soon there will be no reason for doctors to make you sick to get you better. Targeted therapy is working for various blood cancers and when they figure this out for breast cancer – it's going to be wonderful news for women everywhere.
WigSalon.com is located in Los Angeles and is one of the Internet's first commercial sites. Be sure to check them out online, stop by the their Los Angeles wig shop or follow the Wigsalon Blog for more news as it becomes available.
Wigsalon.com
10867 W Pico Blvd.
Los Angeles, Ca 90064
800-262-8437