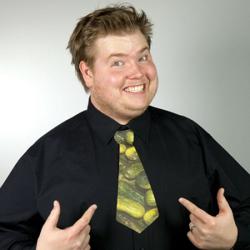 Los Angeles, CA (PRWEB) March 31, 2013
It's easy to argue that men are the bigger pranksters when it comes to giving fun gifts. From their keen sense of toilet humor, to their love of all funny bacon gifts, most men can always appreciate unique and wacky gifts more than anyone else.
That's why Stupid.com, internet retailer of funny gifts and novelties, has expanded their line of gag gifts for men, filling their virtual shelves with over 250 gifts and gags specifically targeted at making men around the world laugh harder than ever before.
In order to best appeal to most men's wacky and wild sense of humor, many of the new gifts fall into categories like funny bacon gifts, mustache gag gifts, star wars gifts, geek stuff, and toilet humor pranks.
Here are a few highlights from the newly added gag gifts for men section at Stupid.com.
Sticky Ties – Available in Pickle, Bacon, Beer, Duct Tape, and more, these stick-on ties are the perfect gift for the guy on the go – or just the guy who hates dressing up for work. Peel 'em off, stick them to your shirt, and you're instantly ready for any fancy occasion or event.
Glow in the Dark Mustaches – Worried nobody will see that killer mustache in the dark? Both in retro and modern day styles, these simple 'staches boldly glow green in any dark environment.
Red Cup Koozie and Red Cup String Lights – Be the life of the party – even when not attending a party. The Red Cup Koozie will keep your drink looking awesome and cold at the same time – and the Red Cup String Lights are the perfect decoration for any bachelor pad bedroom or patio.
Remote Control Zombie – The Zombie Apocalypse may not quite be here yet, but what boy hasn't dreamed of owning his own zombie he can control? Brains sold separately.
Remote Control Tarantula – Possibly the creepiest thing ever sold, it takes a real man to not scream when this tiny robotic spider comes crawling around. Also, its eyes light up. Yes, Tarantulas have eyes!
Gun Mug and Grenade Mug – Men love playing with things that go bang! And while these army-influenced coffee mugs, in the shape of a gun and a grenade, may not actually hurt anyone, they do make for a interesting statement in the workplace.
All these and more fun gifts and gag gifts for men are available now at Stupid.com
About Stupid.com
Since 1998, Stupid.com has been spreading laughs around the world, one funny gift at a time. Today, with over 2,000 unique gag gifts and 200 crazy shopping categories, the company is the online industry expert in finding the most outrageous handpicked stupidity on planet earth, and bringing it to the masses. Stupid.com - Shop for Laughs!