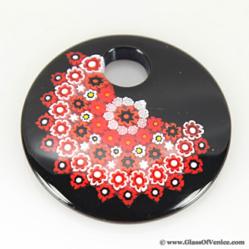 GlassOfVenice.com is proud to introduce new collection of Murano Glass Millefiori jewelry and accessories to please those who appreciate art and craftsmanship of Murano Glass but prefer trendy contemporary style.
Glen Rock, NJ (PRWEB) March 30, 2013
GlassOfVenice, the company famous for having the largest high quality authentic Murano Glass selection outside of Venice, Italy and for offering outstanding customer service in line with the highest U.S. standards continues to impress its customers and followers. GlassOfVenice is proud to introduce a new collection of Murano Glass Millefiori jewelry and accessories to please those who appreciate art and craftsmanship of Murano Glass but prefer trendy contemporary style. The new collection mixes the old with the new in truly Venetian style by offering a modern take on ancient Millefiori technique. Beautiful pendants, earrings and hair clips feature traditional and contemporary mosaic patterns along with unexpected touches such as asymmetric patterns, matte backgrounds, trendy silver bails, and interesting shapes, demonstrating the skill and fashion sense of Murano Glass artisans.
Millefiori technique is one of the most ancient decorative glass-making techniques in the world. Articles created in this technique were in use in many ancient civilizations, including ancient Egypt, Phoenicia, Greece, and Rome. Millefiori is a complex completely manual technique involving creation of glass canes with colorful patterns at the cross-section and then cutting up those canes to obtain tiny mosaic pieces, which can be arranged into patterns and fused together to create pendants or decorate the surfaces of various glass articles. Building on the heritage of ancient Rome, Murano masters were the only ones with the knowledge of Millefiori technique in the middle ages, but this knowledge was lost by the end of the seventeenth century. The technique was rediscovered on Murano in the nineteenth century and experienced renaissance in popular appreciation, which continues to this day.
GlassOfVenice.com, the company's website, already features the largest collection of Murano Glass Millefiori pieces available online, and with this new addition anyone interested in Venetian Millefiori jewelry and accessories will be able to find what they are looking for without leaving home. It is always a challenge for women to find jewelry articles that they like but GlassOfvenice solves this problem by offering a wide variety of pieces spanning a range of styles, colors, shapes, and patterns but always adhering to the same high standard of handcrafted quality, traditional artisanal methods, and Venetian artistic touch. The arrival of the new pieces is especially timely in light of the upcoming Mother's Day, since artistic and unique Murano Millefiori Glass pieces traditionally make great gifts for moms of all ages.
About GlassOfVenice
GlassOfVenice is a U.S.-based company focusing solely on direct import and worldwide distribution of authentic Murano Glass. The company was founded by visionary businessmen with passion for Italy and Venice and appreciation of Venetian artistic heritage, which is today best seen in its famous Murano Glass. GlassOfVenice imports all its products directly from Venice's artisans and offers the full range of Murano Glass produced by the Island's artisans from jewelry and accessories to tableware and home décor, including vases, sculptures, and chandeliers. The products can be purchased on the company's full-featured and user-friendly website http://www.GlassOfVenice.com. Paypal and all major credit cards are accepted and worldwide shipping is available from the U.S.-based warehouse.