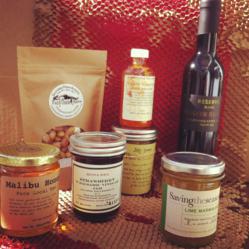 We are thrilled to be sharing the stage in Boulder with some of our greatest food heros -- from Carlo Petrini, founder of Slow Food, to Tom Philpott, one of the most influential food writers in the country - Jennifer Piette, OOTB's founder
Los Angeles, CA (PRWEB) March 29, 2013
Slow Money is a forward-thinking organization which has started a new conversation about money that is too fast, about finance that is disconnected from people and place, about how we can begin fixing our economy from the ground up... starting with food.
The Slow Money National Gathering celebrates emerging food entrepreneurs who are working to revitalize local food systems across the United States and offers them access to monetary support. Since 2010, the Slow Money national gatherings have funded more than $22 million to small food enterprises with progressive thinking. The conference is being held in Boulder, CO, April 29-30, 2013. Out of the Box Collective is one of two dozen food entrepreneurs selected from across to the nation to propose opportunities to key investors at this trend-setting event. Out of the Box Collective was chosen by members of the Slow Money network for their quality of vision and business acumen.
"We are thrilled to be sharing the stage in Boulder with some of our greatest food heros -- from Carlo Petrini, founder of Slow Food, to Tom Philpott, one of the most influential food writers in the country," says Jennifer Piette, OOTB's founder. "We're on the lookout for partners who can help propel the business to the next level and where better than at this gathering of the leaders in the national movement to rebuild our food systems?"
Out of the Box Collective has been making the news this month, featured in the Wall Street Journal's Off Duty section for its delectable gift bags, containing beautiful assortments of artisan-made treats. A recent segment from Los Angeles' KABC praises the affordable and healthy meal service for its customizable box orders and themed recipes.
About Out of the Box Collective:
Out of the Box Collective is located in Chatsworth, California. Founder Jennifer Piette and her team have been exploring, tasting and foraging the best of Californian pastures, wineries and farmer's markets, from L.A. to Sonoma County and beyond, collecting a Round Table of the Sons and Daughters of the Food Revolution. These dedicated Good Food fighters produce veggies, fruit, pastured meats, cheese, pasta, jam, wine and more, the old way, with love and without chemicals, and Out of the Box Collective home delivers weekly selections of these foods, accompanied by meal plans and recipes, to its LA customers.