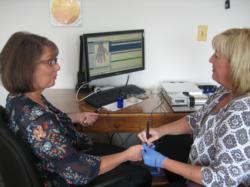 Insulin resistance is no longer a condition that affects only adults. The increase in childhood obesity can also be linked to insulin resistance
Orland Park, Il (PRWEB) March 29, 2013
Barbara Griffin, NMD, CNC, Certified Gluten Practitioner, director of Vital Health, Inc. stated, "Insulin resistance is a condition in which the body produces insulin but does not use it effectively. When people have insulin resistance, glucose builds up in the blood instead of being absorbed by the cells. Insulin resistance is becoming more common. Insulin resistance is no longer a condition that affects only adults. The increase in childhood obesity can also be linked to insulin resistance."
Dr. Griffin explained that there are a number of causes which can lead to the development of insulin resistance.
Genetics.
Genetics play a big part in the development of insulin resistance. Some people are born insulin resistant. In these cases especially, insulin resistance promotes weight gain, which in turn promotes more insulin resistance.
Obesity.
Being overweight is a strong indicator of insulin resistance. Weight carried around the abdominal region is a primary cause of insulin resistance. Studies have shown that belly fat produces hormones and other substances that can cause serious health problems such as insulin resistance, high blood pressure, and cardiovascular disease.
Lack of exercise.
Studies have proven that physical inactivity is associated with insulin resistance, which often can lead to type 2 diabetes. Active muscles burn stored glucose for energy and refill their reserves with glucose taken from the bloodstream. This process helps to keep glucose in balance. When someone is inactive, they have less muscle, which can adversely affect the body's ability to burn and control glucose levels.
Dr. Francine Kaufman is an American endocrinologist, professor, author, researcher, consultant, and corporate officer[1] in the medical field of Diabetes mellitus, coined the term diabesity (diabetes + obesity). In her best selling book, "Diabesity: The Obesity-Diabetes Epidemic That Threatens America",[2] Dr. Kaufman defines Diabesity as a metabolic dysfunction that ranges from mild blood sugar imbalance to full-fledged type 2 diabetes. Diabesity is a constellation of signs that includes:

abdominal obesity (i.e. "spare tire" syndrome);
dyslipidemia (low HDL, high LDL and high triglycerides);
high blood pressure;
high blood sugar (fasting above 100 mg/dL, Hb1Ac above 5.5);
systemic inflammation; and,
a tendency to form blood clots
The good news is that insulin resistance is a condition that can be stopped and even reversed. The key to making this happen is early diagnosis and making the necessary lifestyle changes.
Dr. Griffin has been able to help clients identify that are at risk for insulin resistance. This is possible through the use of Electro-dermal Screening (EDS). EDS is a powerful tool, which allows people to gain insight on the health of key organs within the body, as well as food and environmental sensitivities.
Dr. Barbara explained, "Just as an EKG machine measures the electrical activity of the heart, EDS measures these same electrical pathways to provide critical information about organs and body systems. EDS can help recognize a patient's organ dysfunction even before physiological symptoms manifest themselves."
EDS is a painless and non-invasive diagnostic tool that can help identify key weakened or stressed areas within the body. The scan shows how much stress an organ's meridian is under and can aid Dr. Griffin in determining what can be helpful in eliminating the imbalance.
In the case of insulin resistance, the areas that would show signs of stress are the adrenals, circulation, lymphatic system, digestive tract, pancreas, and liver.
This same EDS solution can evaluate an infinite number of supplements, vitamins and other products for use in restoring equilibrium to imbalanced areas within the body. Diet recommendations can be analyzed suggesting the correct portion of carbohydrates, protein, vegetables for the particular individual. Through the EDS solution system, Dr. Griffin has helped over 10,000 thousands of clients.
Neither the EDS screening, nor Barbara Griffin provide medical diagnoses or medical treatment. Follow-up with your medical doctor before beginning any new treatment plan is strongly recommended.
About Vital Health, Inc.:
At Vital Health, Inc. Dr. Griffin integrates a whole body approach with the intention of facilitating wellbeing and optimal health amongst her clients. Dr. Griffin's specialties include: traditional naturopathy, nutrition, EAV Meridian Stress Assessment, Food Sensitivity Screening, Environmental Screenings, Iridology, SKASYS, Live Blood Cell Analysis as well as established integrative therapies such as Neuroemotional Therapy, Neuromodulation Technique, Cold Laser
Notes:
1. http://www.reuters.com/article/pressRelease/idUS148021+24-Nov-2008+BW20081124
2. http://www.amazon.com/Diabesity-Obesity-Diabetes-Epidemic-Threatens-America/dp/0553803840