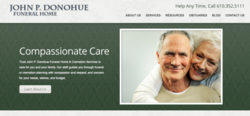 Philadelphia, PA (PRWEB) March 29, 2013
The John P. Donohue Funeral Home in Pennsylvania launches its updated website designed by Funeral Home Resource, the online marketing experts for the funeral industry. With the new website, this greater Philadelphia funeral home better reaches and educates its community.
John P. Donohue Funeral Home's new website. http://www.jpdfh.com, has a clean and pleasing design that invites people in to learn more. Bart Cavanagh, owner of the funeral home has always prioritized his relationships with his clients, and focuses on providing exceptional service fairly priced. It was important to Cavanagh to ensure this philosophy was reflected in the website.
One of the special features of the new website is its industry leading online memorials. The John P. Donohue Funeral Home uses Funeral Home Resources co-branded Online Memorials to offer clients a premium obituary. These online memorials, available from the funeral home website, offer full page pictures, a light a candle feature, and the option of setting reminders in addition to traditional online obituary features.
Greater Philadelphia's John P. Donohue Funeral Home marries its tradition of excellence meeting clients' needs with advanced applications available on the Internet to fully serve the community. In today's connected environment, it's more important than ever for funeral homes to meet their clients and community online. Visit the updated website at http://www.jpdfh.com.
About Funeral Home Resource
Funeral Home Resource, the outsourced online marketing department for funeral homes, grows market share for funeral homes through on-line marketing to families in need of funeral home and cremation services. Funeral Home Resource operates FuneralHomeResource.com, the premier on-line directory of funeral homes. FHR is trusted by the most established, most respected names in the funeral industry, handling all their online marketing efforts and overseeing the creation, capture, delivery, and conversion of thousands of online inquiries for them each month. Funeral Home Resource specializes in no-risk performance marketing arrangements.