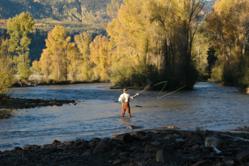 "...the fishing leaves me speechless... The scenery that surrounds you when you're standing in three foot of ice cold, fast flowing mountain river water is spectacular." Trip Advisor reviewer EnglishMikeWaterrow
Antonito, CO (PRWEB) March 30, 2013
Rainbow Trout Ranch is a dude ranch located at 9000ft in the Colorado Rockies. Although it is a full service guest ranch known for riding, kids and youth activities and more, it has long been touted as having superior fishing. This was recognized with the announcement that it was voted one of the Five Best Fly Fishing Ranches in the 2012 Signature Ranch Awards.
The voting was open to guests and users of DudeRanch.com, a site dedicated to dude and guest ranches in America and owned by Peter Askew. When Askew emailed the ranch to announce the award, he wrote "The competition was fierce - almost 30 nominations in one category + 5,000 total votes - so pat yourself on the back for being voted into the winner's circle."
There is over a mile of the Conejos River running right through the ranch, a river well known in fly fishing circles. According to local professional fly fisherman Jon Harp of Conejos River Anglers "this award is well deserved as theirs is truly the best stretch on an already great river."
About Rainbow Trout Ranch
Rainbow Trout Ranch is a family owned dude ranch in excellent standing with both the state and national dude ranching associations, and exclusively five star reviews on Trip Advisor. The ranch has a long tradition of providing superb western hospitality for families, couples, groups and singles looking for an adventure vacation in the Rocky Mountains of southern Colorado. Inquiries can be made to 800.633.3397 or the website.