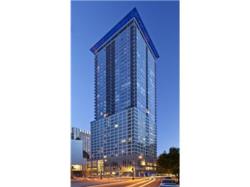 The development team at Olive 8 confidently navigated the market correction in recent years and their success exemplifies the housing market recovery we're experiencing downtown Seattle." Dean Jones, Principal of Realogics Sotheby's Int'l Realty
Seattle, WA (PRWEB) March 29, 2013
In another sign that the in-city condominium market has rebounded, Olive 8 – a 229-unit condominium tower above the Hyatt at Olive 8 Hotel, has just four developer-owned residences left to sell, according to its representatives. Billed as an "in-city resort", the 455-foot tall hotel and condominium is the first LEED "Silver" development of its kind and has been a best-seller in its class since resetting prices on January 1, 2011.
"The development team at Olive 8 confidently navigated the market correction in recent years and their success exemplifies the housing market recovery we're experiencing in downtown Seattle," said Dean Jones, Principal of Realogics Sotheby's International Realty (RSIR), the listing brokerage firm on the property. "Supporting our accomplishments as a marketing and sales team we must recognize RC Hedreen Company. We thank them for a matchless property to represent and for their confidence in our market fundamentals while reaching this milestone."
The final four new construction homes for sale at Olive 8 are all above the 36th floor and include three one bedrooms ranging from $570,000 to $595,000. Also just listed is a 2,225-square foot, three-bedroom, three-bathroom sub penthouse offered at $2.5 million, which offers commanding views of the downtown skyline and vistas of Elliott Bay and Lake Union.
"Our strategy to save the best homes for last is demonstrated by our final homes that remain available – this is it," adds Julie McAvoy, the Community Sales Director for Olive 8. "After spending nearly two and half years at Olive 8 selling out will be a rather bittersweet experience for me. I'm proud to have welcomed more than a hundred homeowners to Olive 8. I think they will be very well positioned in what's quickly become a seller's marketplace."
Overall the in-city condominium market has tightened up considerably in recent years according to RSIR reports. Today there are just 46 new construction condominium homes remaining for sale with 68 resale properties in the center city market – combined that's less than 5% of the total inventory on the market during the height of the condo boom five years ago.
With expanding demand and finite supply, at least for the next few years says Jones, median home prices have been steadily rising. Estimates by RSIR track median prices for condominiums in downtown Seattle nearing $500,000 for the first quarter of 2013 compared with $365,000 during the same period in 2012 – a 35% increase. A final open house event at Olive 8 is being scheduled for Saturday, March 30 between 1pm and 4pm, following which homes will be shown by appointment only. To schedule a viewing guests are invited to contact Julie McAvoy at 206.992.8553 or email Julie(at)Olive8(dot)com.
About Realogics Sotheby's International Realty: Artfully uniting extraordinary homes with extraordinary lives, Realogics Sotheby's International Realty is a leading project marketing and sales brokerage in the Pacific Northwest and a top-selling office in downtown Seattle. The Puget Sound Business Journal as the second fastest growing private company in Washington State for 2012, the boutique real estate firm of approximately 55 brokers. Visit realogicssothebysrealty.com