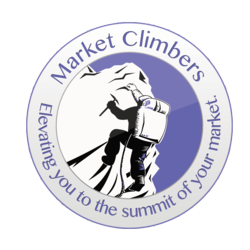 Olathe, KS (PRWEB) March 31, 2013
Expansion plans of search engine optimization company Market Climbers now include Kansas City, as owner Brian Roehm targets major cities in the Midwest. Businesses in the area can now utilize Market Climber's local-targeted search optimization service for better rankings on localized search results.
Located in the center of the country, Kansas City serves as a vital hub to the nation and will serve as the focal point and headquarters for Market Climbers. A local presence will allow for a highly targeted and personal approach to online marketing.
Market Climbers focuses on using online marketing to drive targeted traffic for its clients. Taking a holistic approach, Market Climbers focuses on unique content driven Search Engine Optimization and Social Media Marketing. Its top notch research and education services ensure that its marketing remains on the forefront of the industry.
With a team of article writers with extensive experience, Market Climbers provides custom research and handcrafted articles designed to boost SEO as well as provide new and informative content. Content creation has widely been reported as the most important factor in SEO and marketing in general.
Internet Marketing expert and owner of Market Climbers Brian Roehm points out the importance of an expert team, "So many companies offer SEO by contracting with third party firms in other countries, and resort to software systems. This leads to a quick pop in rankings but disaster always follows. Market Climbers has always strived to provide marketing services the right way, with hand crafted work, utilizing talent right here in the United States. This enables Market Climbers to succeed where so many have failed."
For details head to http://www.marketclimbers.com/Kansas-City-SEO.html.
As it continues to pioneer new marketing techniques, Market Climbers is in the final stages of releasing a new educational series and podcast service. "We understand the market climate for new businesses. Search engine rankings has always been important and is quickly becoming vital to the ongoing success of businesses of all sizes. Over 85% of all traffic comes in the form of Search Engine Traffic and the internet is becoming an almost exclusive avenue for finding products and services." Market Climbers is an excellent vehicle in helping businesses reach the summit of their respective markets in record time.