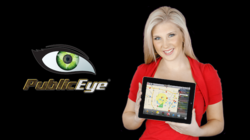 PublicEye is available for iPad, iPhone and Android tablets and phones...mobile solution capable of CJIS-secure state checks nationwide.
Nashua, NH (PRWEB) March 30, 2013
Zco Corporation, one of the world's largest app developers, has partnered with Ohio-based CommSys to provide additional functionality to their mobile safety solution, PublicEye™. Using the CommSys ConnectCIC™ software, PublicEye will be able to perform CJIS-secure state checks nationwide.
PublicEye is an iPad, iPhone and Android-compatible safety solution that allows first responders to easily view critical information from computer-aided dispatch (CAD) on their mobile device. With the ConnectCIC, PublicEye can now access state, national, regional, and local Criminal Justice Information Systems through a common interface tool. This allows access to each state's defined basic query options: information on wanted persons, vehicle registrations, driver licenses, and stolen vehicles, guns, boats, and other articles.
PublicEye provides a clean, intuitive interface and avoids digging through menus and dealing with ASCII blocks of text. Officers will see a visually consistent layout regardless of the underlying response structure that varies from state to state.
"We are dedicated to providing the easiest, most secure public safety solution for our communities and first responders. Partnering with CommSys is an important step towards that goal," said Gary Mueller, VP of Business Development at Zco Corporation.
With PublicEye and ConnectCIC, iPad, iPhone and Android devices will be end-to-end secure, CJIS compliant and capable of state checks in a mobile environment. Zco Corporation, along with the police departments currently implementing PublicEye, are looking forward to the new CJIS access and state check capability. For more about PublicEye, view our short overview video at http://www.zco.com/publiceye.
About CommSys, Inc.
CommSys has over 20 years experience in providing Criminal Justice Information Systems (CJIS) integration solutions and services to public safety software vendors in technology supply. They have developed rich relationships with a number of Computer Aided Dispatch (CAD) and law enforcement Records Management Systems (RMS) vendors, allowing them to become "the experts" in integration communication technology interfaces to state, regional and national systems: CJIS, NCIC and Nlets.
CommSys has two standardized product families: ConnectCIC™ middleware and the CLIPS™ CJIS terminal software. They also provide professional services and integration expertise for solutions throughout the public safety software market to both corporate and agency customers. Information regarding CommSys, Inc. may be found at http://commsys.com.
About Zco Corporation
Founded in 1989 and headquartered in Nashua, New Hampshire, Zco Corporation has served Fortune 20 companies to small businesses for over 20 years. Zco is one of the largest custom mobile app developers in the world. Its services include 3D animation and games, augmented reality and custom software. In addition to Zco's work for hire, it has an iOS and Android-based public safety product, PublicEye™. To learn more, visit http://www.zco.com/.