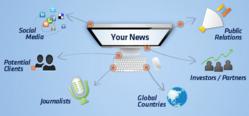 The U.S. Business Almanac includes biographical and professional information about members across the country.
Washington, D.C. (PRWEB) March 31, 2013
Business managers are usually overwhelmed by the many responsibilities they must perform to maintain and improve their companies. Whether it is hiring qualified personnel, promoting workforce morale or developing external resources, managers are often stretched too thin to accomplish all of these tasks with the degree of success they would like. In order to help members of HI-SBN achieve success in these areas, HI-SBN is now offering the U.S. Business Almanac, online articles and vital networking tools.
Print Resources
HI-SBN is offering members the U.S. Business Almanac which includes biographical and professional information about thousands of members across the country. This valuable directory provides members with a handy, accessible resource which can provide critical information about executives, professionals and businesses before a meeting or sales pitch. This is also an excellent marketing tool for disseminating information about oneself to potential business partners, employers or clients.
HI-SBN also makes the Work + Life Magazine available to members. This publication provides cutting edge advice about how to optimize company environments, promote worker morale and achieve new levels of success.
News
Most business managers are desperate for the latest information about business, politics and social events, as well as emerging strategies for enhanced business management. While it is possible to collect this news from a myriad of sources, the easiest way to for HI-SBN members to acquire this is merely to visit the HI-SBN website. Not only are there links to the latest news articles, but industry experts share their wisdom through insightful articles and forum posts.
Career Resources
Finding well qualified professionals is a challenge for most companies. HI-SBN makes this challenging process easier by providing a job board where members may post temporary and permanent job openings. Members can rest easier knowing that they are hiring from a pool of the most talented and reliable professionals in the country.
Retaining talented workers is also easier with HI-SBN. Corporate culture can be optimized using information from the Work Smart Program which provides the latest industry news through articles and podcasts.
About the Hawaii State Business Network
The Hawaii State Business Network (HI-SBN) is a career and business development program designed to promote job growth, commercial allure, and state-based networking. Through enabling its members with a variety of tools, lessons, expertise, and communication, it hopes to expand its members influence through forging of strategic alliances. Cooperating with other State Business Networks, HI-SBN enables its members to make the fullest use of its online platform to fuel connections within the Aloha state, as well as with other localities, states, and the rest of the nation.