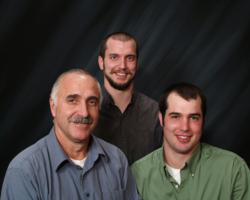 Rogers, MN (PRWEB) March 31, 2013
For Rogers residents Matt, Greg, Luke and Kevin Holker, lawn care is a family business. The family – Matt, 58, is the patriarch and the other three are his sons – is a multi-unit Spring-Green franchise owner servicing areas from St. Cloud to the western suburbs of Minneapolis including Monticello, Maple Grove and Plymouth (additional Spring-Green franchisees service other Minnesota communities). They've found success in family business ownership by dividing the workload, playing to each individual's strengths, and maintaining clear, open lines of communication. And so far, it's been a success - their franchises reported $620,000 in sales in 2012 – up 6 percent from 2011 – and growth has continued in the first quarter of 2013.
Matt originally went into business with middle son Greg with the purchase of their first Spring-Green franchise in 2006. Back then, Matt handled the books and outdoor yard work, while Greg pitched in with lawn care maintenance. Eldest son Luke joined the team in 2009 as treasurer and office manager, and Kevin, the youngest, entered the business in 2010 after returning from active duty with the Air Force in Afghanistan and England.
Of course, running a family operation comes with its own unique set of challenges, but the Holkers get through it simply by making a real effort to communicate with each other and the Spring-Green national support center. Each of the Holker boys holds a 25 percent stake in the company, making it totally equal and giving each of them the opportunity to have their opinions considered. And since they know each other so well, they can use each individual's skills and talents effectively.
"We know each other's strengths and delegate duties accordingly, and we can give input without fear of hurt feelings or retribution," Luke says. "We know what to expect from each other, and accountability and trust is pre-established."
It helps that each of the sons joined the family business of their own accord – Luke previously worked in manufacturing, but started helping his dad out in his spare time and eventually left his old job entirely. And Kevin came on board after his military service because his brothers asked him to join and he didn't have any other plans. Having the individual motivation to succeed allows them to make rational decisions without personal conflict, but the family ties mean they want to help each other, too.
"Each person pulls their own weight not only for their own personal success, but for the success of the company and family as a whole," Luke says.
And though Matt, as the original owner, has the ultimate say on business decisions, he says he typically trusts his sons to make smart business decisions and reach consensus on their own – and if issues arise, like major purchases or advertising expenses, they put it down to a vote.
With a current roster of over 1200 clients in their five franchises, the Holkers certainly have a lot on their plate. And the business venture has been highly successful. With five locations covering Wright, Benton, Morrison, Sherburne, and Stearns counties, the operation has steadily grown over the years.
"We're thrilled to have a stable, successful business and the skills and experience to run it effectively and satisfy our customers," Luke says. "We're proud to help beautify the lawns of central Minnesota one client at a time."
Founded in 1977, Plainfield, Illinois-based Spring-Green Lawn Care has been delivering lawn and tree care services nationwide for over 35 years. Its service is centered on the beautification of residential and commercial customers in middle-class and affluent neighborhoods and communities. Spring-Green is an attractive opportunity for entrepreneurs and existing green industry business owners who want to align themselves with a franchise opportunity that has proven economic resilience, healthy profit margins, industry leading business and marketing intelligence, recurring revenue and retirement & family planning through business ownership. Spring-Green currently has 117 franchises operating in 26 states. Spring-Green Lawn Care franchise owners gave the franchise opportunity a 94 percent overall quality rating, according to the Franchise Research Institute 2011 survey. For more information, visit http://www.springgreenfranchise.com, http://www.spring-greenfranchiseblog.com or follow Spring-Green Franchise on Facebook, Twitter, LinkedIn or Google+.