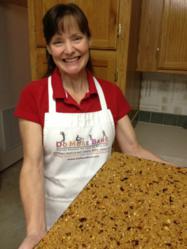 Pisgah Forest, NC (PRWEB) March 31, 2013
The company announced today that they are holding a 'Do Us A Flavor Contest' to determine the fruit & nuts to be used in their new cereal bar. Each year a new flavor has been developed in-house, but this year the company wants the flavor to be the 'People's Choice'. The company encourages feedback from its customers and will occasionally receive suggestions for a new flavor. Some of these suggestions are quite unique and sparked the idea to hold the contest to find the next winning combination. So, what fruit and nut combination would make an awesome Do More Bar? Entries should be sent to Comments(at)DoMoreBars(dot)com The new flavor will be created based on the most popular contest entries. All those who suggested the winning flavor will be entered in a drawing. The winner will receive a six-pack of the new flavor. Contest runs through April 30, 2013.
Do More Bars gourmet fruit & nut cereal bars are all natural and gluten free bars that come in a variety of flavors: Date Pecan, Pineapple Coconut, Raisin Peanut, Orange Cranberry Pecan, and Cherry Almond. Similar to a rice crispy treat but in a healthy gourmet version, these top rated healthy snack bars are sold in 100 retail locations nationwide, including Ingles grocery stores and Earth Fare supermarkets, as well as online at DoMoreBars.com.
Do More Bars was founded by single-mom Tammy Woods in 2008. The healthy snack bars were created out of a need in Woods' family for snacks that would satisfy her health-conscious mind and her daughter's taste buds. Other bars that appealed to her daughter weren't nutritious and the health food bars weren't appealing to her daughter. With a passion for cooking, Woods set out in the kitchen to create great tasting gluten free bars that were all natural and made with wholesome ingredients. The result was a light, crisp, chewy bar, made with whole grain, fruit & nuts – winning the approval of both mother and daughter. As a matter of fact, her daughter liked them so much she inspired Woods to start the business.