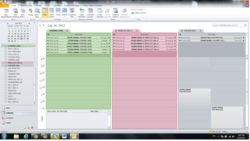 Production Schedule in MS Outlook is a great benefit to our users. - Jm Convis, Product Manager
South Lyon, MI (PRWEB) March 29, 2013
User Solutions, Inc., has announced an alliance with Mindlin Consulting Group, based in Cleveland, Ohio, to better serve customers looking to improve their manufacturing and operational competitiveness. Both companies have been serving the industrial markets for a number of years enhancing existing ERP systems. A few of these systems include: Fourth Shift, SAP, Exact, Syteline, SysPro, JD Edwards, BPCS, Cincom, and others. The Outlook Scheduler is an enhancement to User Solutions' major planning and scheduling product, Resource Manager-DB and will be offered by both companies to complement existing ERP Systems.
Resource Manager-DB, Windows-based product, is the only off-the-shelf production scheduler that is designed to adapt quickly and easily to users' best practices. This enables the customer to become more efficient implementing strategic processes that fit them perfectly. In the past, the only way to have systems support custom procedures was through extensive customization. Resource Manager-DB's built-in customization requires simply checking options.
According to Jim Convis, Product Manager, "The Outlook Scheduler extends the benefits of being able to easily share the production schedule in a familiar environment. In addition, User Solutions shares a common philosophy with Mindlin Consulting group: focus on what the customer wants to do, rather than forcing the customer to conform to a one-size fits all software."
Affordable and Compatible
A single user version of the Outlook Scheduler is $1495. A single user version of Resource Manager-DB is $5,000-$7,000. The multi-user version price is twice the single user version. Resource Manager-DB quickly and easily adapts to existing operations and is the first tool that can be utilized as a stand-alone system by small companies, as well as by larger companies with installed ERP Systems. Resource Manager-DB enables most any operation to immediately improve their planning, scheduling, and tracking capabilities to become more efficient and more competitive.
For more information, or for a free trial, contact US at US(at)UserSolutions(dot)com or call toll-free (800) 321-8737 or go to http://www.UserSolutions.com.