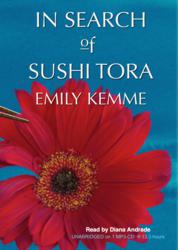 "In Search of Sushi Tora" will be the premier direct audiobook download from the BFV website
Evergreen, Colorado (PRWEB) March 31, 2013
Brook Forest Voices (BFV) audiobook producer and publisher will introduce direct download capability from their website beginning with "In Search of Sushi Tora" by Emily Kemme. In her premiere novel, "In Search of Sushi Tora", Emily Kemme takes the reader on a fast-paced ride through reality. Told with turns of sparkling wit and biting humor, she evaluates the purpose of marriage, and puts a spin on how we can survive the trials of everyday life. "We're very excited that "In Search of Sushi Tora" will be the premier direct audiobook download from the BFV website" announced Diana Andrade, audiobook publisher and President of Brook Forest Voices.
"In Search of Sushi Tora", was named a Finalist in the First Novel category of the 2012 Next Generation Indie Book Awards, recognizing it as one of the most exceptional independently published books of the year.
In addition to being available as an audiobook CD and as a download from the standard download sites, "In Search of Sushi Tora" will now be available as a download directly from the BFV website http://www.brookforestvoices.com. "We did this as a value added to our authors and our customers," concluded Diana. "This provides a convenience to customers that visit our website and an additional sales outlet for BFV authors."
About Brook Forest Voices: a complete audio production studio located just west of Denver in Evergreen, CO, specializing in audiobook narration, production and publishing. BFV is designed to help large and small publishers, as well as authors, with all their audio needs. Publishers and authors wanting to learn more can visit http://www.brookforestvoices.com or contact Jaime Andrade, BFV Business Manager at 303-670-4145.