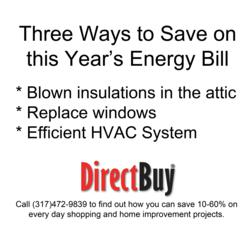 Three ways to save on this year's energy bill.
Indianapolis, IN (PRWEB) March 29, 2013
With the rising cost of home maintenance and ownership, a great way to save is on your energy costs.
Energy Secure Solutions is a preferred vendor at DirectBuy of Indianapolis, a great place for those who are working on any type of home improvement projects. Steve Butner, owner of Energy Secure Solutions, Inc has three tips on how to save on this year's energy bill.
Tip one: Make sure there is blown insulation in the attic. Steve states, "30% of the energy goes through the attic. Air rises, this is where the warm air escapes." Adding attic insulation is one of the most significant steps necessary to save on heating and cooling expenses.
Tip two: Consider saving on this year's energy bill with the purchase of new windows and doors. Up to 40% of the heating cost could be wasted due to older windows and doors. "The newer models are more energy efficient with potential to save a lot of money, especially the multiple pane windows", Steve shared. DirectBuy offers several vendors with high energy efficient windows at great savings. This type of renovation in 2013 will have some tax benefits as well.
The American Taxpayer Relief Act of 2012 did bring back energy efficient tax credits for windows, doors, and skylights. The bill reinstated the 25c tax credits that did expire the end of 2011 and extended them through the end or 2013. The 25c homeowner tax credits does include a maximum credit of $200 for windows.
Kevin Baagoe from Hurd Windows and Doors, another favored vendor at DirectBuy of Indianapolis, shares that Hurd Windows and Doors hand-craft all of their windows using a 5.25 inch frame around their windows for a solid, energy efficient window, windows are double or triple pane as well. A double hardware system used by Hurd takes the pressure off the cranking of windows, making them easier to open and allows the window to crank out 90 degrees. He also suggests to "make sure that the warranty is reviewed for the windows that are purchased." Another great addition to the Hurd windows, is a spray preserve coating that when added to the outside of any new windows from Hurd, it makes the rain run off the window reducing the necessity of window washing.
Tip three: Add a high efficienty heating/cooling system. According to the US Department of Energy, 56% of the typical US home expenses is the heating and cooling. "If a HVAC system is over 10 years old, it would be beneficial to have the system looked at by a professional that you trust. The efficiency of the newer equipment could add up to about $200 a year in savings in one's energy bill. Including a programmable thermostat can also be beneficial in the savings", added Steve.
Energy Secure Solutions, Inc. has over 20 years of experience with replacing windows, siding, roofing, gutters, doors, and custom cabinets all across Indianapolis and surrounding counties. Steve brings a high quality of craftsmanship to all of his projects, and voted Dealer of the Year 2012.
DirectBuy of Indianapolis helps members save 10-60% on projects like kitchen remodeling, bathroom remodeling, window replacements, exterior and interior home improvement projects and much more.
To schedule a Savings Seminar with DirectBuy of Indianapolis, please call (317)472-9817.