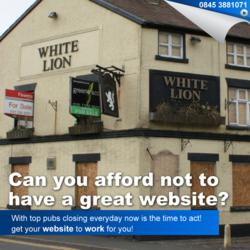 It allows us to build on our experience of producing community websites for national organisations, and develop a great solution for the creative individuals and organisations of British Pubs
London (PRWEB) March 29, 2013
Pub Networks existing network has over 2,000 members who use its social networking network or attend networking events across the UK.
Meanwhile, Think Cloud Studio has worked with other pub marketing publications, such as Smarter Pub.
But in April it will launch the site bringing together the Pub Network as one.
Think Cloud Studio and Pub Network will continue to consult with national pubco's about distributing content through the new service.
Think Cloud Studio managing director, Andrew Maynes, said: "Winning the contract to produce this new website for Pub Network is a great 1st birthday present for Think Cloud Studio.
"It allows us to build on our experience of producing community websites for national organisations, and develop a great solution for the creative individuals and organisations of British Pubs.
"Think Cloud Studio has provided effective sites for large, creative organisations such as IRCM, HFC and Pub Rooms. I am confident that we will deliver an online resource which becomes a fundamental tool."
Hannah Smith, design director for Think Cloud Studio, said: "This is an exciting development for our creative talent."