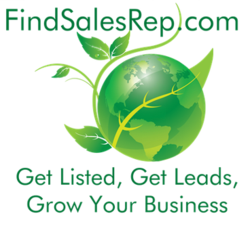 Without a solid support system, many people tend to give up and quit pursuing their dreams.
PHOENIX, AZ (PRWEB) March 30, 2013
Network marketing and direct sales representatives are in an industry that the general public has labeled a 'scam'. In fact, a lot of people despise the network marketing industry because they believe there's too much hype, greed, and lies. To over come these negative attitudes and still generate leads, reps need to connect with people that are legitimately interested in the products and services they offer. They are hard to find. FindSalesRep.com is helping to make these connections, pairing those that are genuinely looking with those that want to be found and because they so successful, they are creating a lot of buzz in the network marketing community.
"All the publicity were getting, it's all true!" wrote Gabby Gmyrek on the company Facebook page FindSalesRep.com facebook page earlier this week. "We have an aptitude and a passion for the Industry and we are devoted to helping support the dedicated reps that have chosen to start their own business." We want to help more reps break-through." stated Gabby. "We are are all about helping Independent Consultants gain confidence, get exposer and grow their business."
This commitment is producing result, not only for FindSalesRep, that saw it's profitable month ever in February 20, 2013, but also for the representatives they work with. [FindSalesRep recently posted an interview with one of the Independent Party Consultants that they have been working with on their blog. In the interview, Kristy Fortney, one of Mary Kay's most enthusiastic Independent Beauty Consultants shared, "I am sure everyone's definition of working for them self is slightly different, as are the reasons. As for me, I'm trying working my Mary Kay buiness for all the right reasons. Working for myself means that I take the initiative to pursue an income that I control at a pace I choose."
Later in the interview, FindSalesRep asked Kristy to talk about her dreams, "I have had many amazing dreams over the years and the one dream that I hold dear to my heart is to be able to have the opportunity to help others in times of need. Mary Kay Ash built a company on the foundation of following the Golden Rule, respect for others. I believe in that. Mary Kay isn't just about selling makeup or skin care. It's about learning to tap into your own abilities. Mary Kay gave me the platform to earn an unlimited amount of money and even change the lives of others everywhere I go. FindSalesRep gave me the confindence."
Confidence, committment, beleif, these are the staples of a successful direct sales business. In the FindSalesRep interview Krisy was asked what she saw in her future, "I know it won't be easy. I have been a Mary Kay consultant twice before and I was scared, easily condemned and I did not have much success at all, but this time is different. I am not listing to the nay sayers. I have become very serious and I have decided to work my Mary Kay business a lot differently this time. This time around, I am following the steps of success the company has provided, I am following the Golden Rule and I am getting help. FindSalesRep showed me that it's not a scary thing to talk to people and build relationships and go out of your zone to build your business and provide the leads to help me practice."
Without a solid support system, many people in network marketing tend to give up and quit pursuing their dreams. Kristy loves FindSalesRep's service because they inspired her to not give up. She concluded the interview by sharing, "They became more than just a service. They really care about their consumers. They have not only made it possible for me to gain better potential prospects, but made it possible to realize that my efforts in networking do not go unnoticed. "I know that with Mark Kay and FindSalesRep know I'm going to make it this time."
With [FindSalesRep.com many ordinarily good people are finding the tools they need to finally succeed in Direct Sales. Not only are they providing a service, but if you connect with FindSalesRep on facebook, a foundation for motivation that will encourage direct sales consultants to recognize and grow their gift and talents.
About Kristy Forney, Kristy is an Independent Mary Kay Beauty Consultant from Ohio. Connect with her at http://www.marykay.com/iamhere4u About FindSalesRep.com has been help Reps in the Direct Sales industry since 2010, get found and grow their business online. FindSalesRep.com was founded by direct sales reps for direct sales reps. Learn More