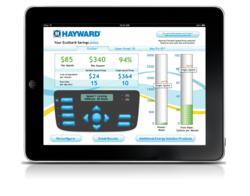 "Hayward is working to provide better tools to both their trade customers and consumers. That means giving them the ability to get the information they need whether at a desktop PC, or using a tablet device or smart phone." –Scott Holmes, D2 Creative
Somerset, New Jersey (PRWEB) March 30, 2013
D2 Creative has developed a series of mobile apps and mobile-optimized web applications to meet the needs of residential and commercial pool professionals and consumers for longtime client, Hayward Pool Products.
"Hayward is continually working to provide better tools to both their trade customers and consumers. Today, that means giving them the ability to get the information they need whether they're at a desktop PC, or using a tablet device or smart phone." –Scott Holmes, Technical Director, D2 Creative
The "Salt & Swim Troubleshooting Assistant" supports Hayward's Salt & Swim® 3C salt chlorination system, and was developed specifically with the smartphone user in mind. D2 Creative designed a graphic, intuitive interface identical to the Salt & Swim control panel, which uses LED lights to indicate system issues. Using the Salt & Swim mobile application, pool owners can make matching selections on their smartphones and receive immediate direction as to how to resolve the problem, along with the ability to email themselves the results or send them directly to Hayward's technical support team for additional guidance.
"We were committed to creating the best possible experience for the customer troubleshooting the product to ensure a positive brand interaction. Designing for mobile devices provided the convenience and real-time feedback critical to the success of this initiative" –Patrick Sodano Creative Director, D2 Creative
The Hayward Energy Solutions Calculator illustrates exactly how pool owners can save money with Hayward's line of energy efficient products. D2 has created several versions of this tool in order to allow Hayward's customers the flexibility to choose the one that works best for them. Most recently, D2 created a native iPad app, available as a free download from the iTunes App Store. Similar to its predecessors, Hayward's iPad Energy Calculator is a useful tool for both pool professionals and residential pool owners. After specifying the pool location, size and some information regarding the current pool equipment, the app calculates and displays the savings in energy costs that switching to Hayward's energy efficient pumps and other products would yield.
D2 Creative's other Hayward applications similarly empower users; a new smartphone-optimized interface for Hayward Commercial's PoolComm® pool management system allows commercial pool service companies to manage pools remotely, and a pair of web- and mobile-optimized calculators allow commercial pool owners and operators to see the potential savings they could realize by using Hayward's commercial LED pool lighting products.
Hayward Pool Products, a division of Hayward Industries Inc., is the largest manufacturer of residential swimming pool equipment in the world. Hayward designs, manufactures and markets the Totally Hayward® System, a full line of residential and commercial pool equipment including pumps, filters, heating, cleaners, sanitization, automation, lighting, safety and energy solutions.
D2 Creative is a digital agency specializing in creative, marketing and technology solutions for B2B, B2C, Healthcare, Technology and Nonprofit organizations.
# # #
If you would like more information about this topic or D2 Creative in general, please contact Carrie Plantamura at 732-507-7441 or email at info(at)D2creative(dot)com.