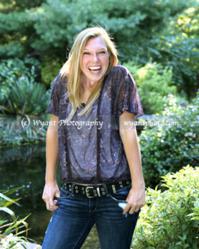 High School Senior Pictures by Wyant Photography
Carmel, IN (PRWEB) March 30, 2013
The senior year is exciting and there is a lot to do.  Not only the senior class schedule, preparing for that last year of fun events, preparing for that first year of college, but also that last year of school photos.
The senior pictures are very special.  There are more people who see senior pictures than any other photos taken, even wedding photos.
With so many people viewing high school senior pictures, it is important to note some important steps to make these images catch the attention of family and friends and make a statement about this very important time in life for the high school senior.
Clothing is an important part of the high school senior photos revealing character, personality and, when well planned, complimenting rather than competing with the individual in the photograph.
The first step is to avoid bright bold patterns.  Look for clothing that has muted patterns that blend together or have small patterns.  
Be aware that horizontal patterns and big patterns can also make the body look heavier, no one wants to look heavy for their senior photos.  Small patterns and vertical patterns help the body to look taller and thinner.
The main goal for high school senior photos is to emphasize the face, eyes and expressions.  Solid colored clothing that compliments the skin tone, can enhance the face, making it appear more vibrant in the images.  Selecting colors that highlight the eyes will help to make a strong statement by placing emphasis towards them.
Basic black is always a flattering direction to go.  It could be the little black dress, or the classic turtle neck and suit.  Black helps make the body look thinner and brings all of the attention to the face.
Solid muted colors are also accentuating.  Muted yellow, light pinks, different shades of blue.  All of the earth tones are a good choice; blues, greens, browns, etc.
It is highly suggested to avoid the bright, florescent colors.  The bright reds, sunny yellows, florescent oranges. These colors, unless there is a specific reason for their use, have a tendency to draw attention toward the color rather than the individual in the high school senior photo.
If the high school senior is unsure of what to wear for the senior shoot, Wyant Photography encourages seniors to bring a variety of clothes.  The Wyants will hold the clothing up to the senior and help them select the color of clothing that will be timeless and accentuate their personal beauty.
Wyant Photography specializes in high school senior photographs and offers a wide variety of options to make the senior photographs fun, unique, and creatively crafted around individual personalities.
They offer a variety of location options.  Their own "Country Harmony" location is a ten acre portrait park with a creek, pond with a waterfall, pre civil war barn, a variety of flower gardens and the benefit of privacy.  
But a senior can add more personality to their high schools senior pictures by choosing from a variety of locations.  What could be more personal than senior photos taken at the senior's house or lake property?  What about creating a city scape look by taking the senior pics at the Indianapolis canal?  Want a smaller city look, consider the city square of Carmel, Indiana with the water fall and nice city buildings.  Include your favorite sport area; school gym, football field, or golf course. Wyant Photography can also make arrangements to have senior photos taken at the White River Park or one of their favorite locations, the Indiana Dunes.  Be one of a small group in Indiana to have beach photos for senior pictures.
There are a wide variety of options, just give Wyant Photography a call at (317)663-4798 to discuss how you can have senior pictures that are "Simply Different".