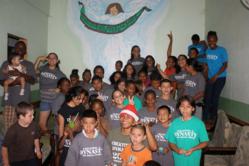 "[Our Clients and listeners] give me hope that there are a few good people left out there who care more about others than they do about their own selfish desires."
San Antonio, Texas (PRWEB) March 31, 2013
Less than a month ago, an anonymous donor of King's Ransom Foundation offered a $100k dollar-for-dollar match to help finish the King's Children's Home, an orphanage, in Belize. Business and relationship expert, best-selling author and renowned speaker, Dani Johnson quickly rallied with long time charity partner Kings Ransom Foundation to support the Belizean orphans. The call went out on her Facebook and through the Dani Johnson Radio Show to her listeners, clients and fans. In under 30 days Kings Ransom Foundation has gathered $120k with money still pouring in.
"I am continuously blown away by our clients and listeners for how mobilized they become when it's time to give and help those who are in need. They give me hope that there are a few good people left out there who care more about others than they do about their own selfish desires. This group of men, women, and children truly went above and beyond the call of duty by exceeding the goal and they raised $120k in 30 days. I believe God is proud of them. The children in Belize are forever grateful, and I am grateful to know people who are adding purpose and destiny to money."
Leonie Gillham, founder of The King's Children's Home in Belize, has, for 25 years, brought children in from the street and has personally raised and educated over 650 kids, saving them from depredations of poverty and abandonment. In the last five months Leonie has seen the orphanage expanded from 42 children to 90, with those 90 living in a single facility with only two bathrooms (one for girls, one for boys). According to the founder the money continuing to pour in, along with the $100k anonymous donor amount, should finish the sorely needed new building.
Individuals interested in supporting the cause can still visit the King's Ransom Foundation Belize Match (http://www.grouprev.com/belizematch) and make a tax deductible donation. Donors can rest assured that 100% of donations go to the King's Children's Home.
About Dani Johnson and King's Ransom Foundation:
Dani Johnson is a best-selling author, internationally sought after speaker and syndicated radio show host. She is also an active philanthropist, donating her time and resources to causes like the King's Ransom Foundation and it's various charitable partners. King's Ransom Foundation is a non-profit 501(c)(3) charity that currently supports many individuals and ministries around the world who provide food, shelter, water, medical aid, spiritual care, education and life skills. The Foundation and its' volunteer board members share common values for responsible stewardship, financial accountability, openness and disclosure.
###