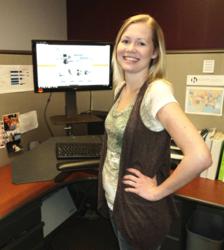 I would switch from a sitting to a standing position throughout the day and within a few days I noticed that the pains in my back and pressure on my shoulder were going away.
Burnsville, MN (PRWEB) March 31, 2013
HealthPostures new sit-stand ergonomic products are creating a more comfortable workspace during pregnancy for today's working women.
Recent studies indicate that women are more likely to work while pregnant than they were in the 1960s, and they are working later into their pregnancies. Those who become pregnant while working will generally not leave the workforce. Most of these women will continue working well into their sixth or more commonly their ninth month of pregnancy and more than 40 percent will return to work less than three months after giving birth.
With such a large number of employees who may become pregnant, it is important to understand how pregnancy can impact workplace safety and comfort. A majority of job's today requires employees to sit at a computer workstation for 8-10 hours per day and the proper ergonomic products in the office can make a great impact during and after a pregnancy. Sedentary work can lead to aches in the neck, back and shoulders. HealthPostures ergonomic sit to stand products ensure that you make regular adjustments and keep moving around while staying on task.
Jill Edberg works as a Sales Representative which requires hours of her work day behind the desk. "I would search for terms like uncomfortable during pregnancy at work just to try to find solutions to how uncomfortable I really was at work during my pregnancy. My lungs were the worst, they felt like they were being squished and I couldn't get a good breath unless I was standing. I would find myself naturally wanting to stand and I wanted to find something that would help me be more relaxed and still improve my energy level at work."
The TaskMate Go from HealthPostures is a simple sit to stand solution that fits easily onto any desk surface and encourages the computer user to move around and keep changing positions to avoid stiffness, swelling and varicose veins. Moving around at regular intervals will not only provide restful breaks to your body but will also help as a mild form of exercise.
"I started to use the TaskMate Go during the first month of my pregnancy" states Jill Edberg. "I would switch from a sitting to a standing position throughout the day and within a few days I noticed that the pains in my back and pressure on my shoulder were going away. I would start to feel pressure on my stomach when I would sit too long and then I would just adjust the TaskMate and stand for a while. I experience very little swelling in my legs during my pregnancy because staying on the move helped with my blood circulation."
Using the best sit to stand ergonomic products like the Taskmate Go from HealthPostures at work during a pregnancy will help lower stress levels and allow women to be more comfortable and have more energy that will help women experience a healthier pregnancy and a healthy baby.
HealthPostures' sit to stand ergonomic products encourage an energetic work environment and will provide a sit to stand ergonomic solution that will help prevent and alleviate pain associated with sitting at work. By using HealthPostures sit to stand ergonomic products you will feel energized and productive throughout your work day. HealthPostures sit to stand ergonomic products are proudly made in the USA.
Go to http://www.healthpostures.com to learn more the TaskMate Go and the benefits of standing in the workplace.