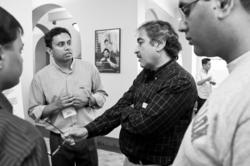 We're in Silicon Valley, and our education and Master's programs reflect that by teaching students how to create successful software products and businesses
San Francisco, CA (PRWEB) March 29, 2013
It's clear that one thing graduates of Carnegie Mellon Silicon Valley (CMU-SV) don't have to worry about is landing a dream career. With laser-focused software management and software engineering graduate programs, CMU-SV produces some of the best talent in the industry. Many of these grads, like the following founders, are ready to take on investors, armed with entrepreneurship-focused software graduate degrees that look like technical MBAs.
"Our students want the software industry emphasis, and many of them have aspirations of becoming entrepreneurs in that industry," said Gladys Mercier, director of CMU-SV's Software Management program.
Manoj Rajshekar and Shekhar Deo are perfect examples of the talent produced by CMU-SV. The pair of 2011 graduates recently co-founded the startup EngageClick, which helps advertisers, publishers, media-based security systems, corporate entities and app developers increase user engagement with its award-winning and patent-pending Human Engagement Platform (HEP).
Seven months after its May 2012 launch, EngageClick announced it had raised its series A funding and acquired paid marquee customers in US, Asia and Europe. Rajshekar credits the education he received at Carnegie Mellon and the school's formidable brand in the tech world for having an influence in the successful launch of EngageClick.
"At CMU-SV, we learned how to take a raw idea and build a business out of it. We didn't know how to market an idea before coming to campus," said Rajshekar. "We also found that it's very important to leverage the Carnegie Mellon education. The strong name of CMU will get you into doors."
Another example of entrepreneurial success is Leanplum co-founder Momchil Kyurkchiev, who also graduated from CMU-SV in 2011. Leanplum is a platform that allows product managers to test and make changes to their mobile apps or games on-the-fly, and provides powerful analytics to interpret the performance of these tests. In February 2013, Leanplum announced that it had raised $825K in angel funding.
"We're in Silicon Valley, and our education and Master's programs reflect that by teaching students how to create successful software products and businesses," said Mercier.
Two graduates from the inaugural 2012 class of the full-time MS Software Management degree, Jason Goldsmith and Markus Lachinger, found this to be true when they went on to start ComicBin, a subscription service for all-digital comics that enables readers to view unlimited comic books for a low monthly fee.
Similar to what Netflix has done for TV and movies, ComicBin gives comic book fans a convenient and legal environment to delve into their favorite pastime.
Ashwin Arun, Bash Sun-Basorun and Christopher Oentojo, also 2012 Software Management graduates of CMU-SV, head up the new iOS app Poof! Poof! provides local businesses a source of customer feedback and referral marketing, giving users a way to unlock rewards for friends and family while discovering new local hot spots. Poof! also aims to improve word-of-mouth marketing for local merchants. The app was unveiled publicly at a launch event in January.
And finally there's Tapgreet. Tapgreet is changing the way consumers buy greeting cards by introducing self-service greeting card kiosks in high traffic retail environments that lack space, such as cafés. Founded by CMU-SV 2011 alum Amin Ariana, Tapgreet has recently launched a pilot program at Oracle and has been described as a "Redbox for greeting cards."
"I have a reason to use what I learned during my MS Software Management degree every day at Tapgreet, whether that's employing team frameworks or applying metric-based decision-making processes," reflects Ariana.
As these graduates can attest, Carnegie Mellon's focused software programs are paving the way for students to build innovative startups such as EngageClick, Leanplum, ComicBin, Tapgreet, Poof! and so much more. For more information about Carnegie Mellon University's Silicon Valley campus and how their alumni have become so successful, or to enroll today, visit sv.cmu.edu or call (650) 335-2808.
About Carnegie Mellon University Silicon Valley:
Carnegie Mellon Silicon Valley is dedicated to educating its students to become leaders in global technology innovation and management and to performing innovative research that connects it to local, national, and global high-tech companies. Long known for its leadership in engineering and computer science research and education, Carnegie Mellon and the College of Engineering have established a natural extension in the Silicon Valley, one that integrates the rich heritage and resources of the Pittsburgh campus with the opportunities available in the highly innovative and entrepreneurial Silicon Valley. Offering software engineering Masters Programs, software management degrees, entrepreneurship, information technology, and electrical and computer engineering, each program provides the appropriate mix of technical, business and organizational skills critical to our students' success. With research that focuses on a suite of new technologies, Carnegie Mellon Silicon Valley is committed to creating and implementing solutions for real problems.