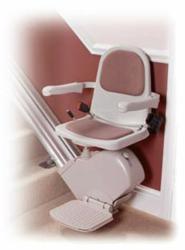 A stairlift allows a homeowner to...have access to his entire dwelling again.
Port St Lucie, FL (PRWEB) March 29, 2013
As older individuals continue to advance in years, they must eventually confront various unpleasant realities that are inevitable as a result of old age. Chief among these is a decrease in their mobility, forcing many older ones to purchase various HME products designed to compensate for this loss, such as scooters, wheelchairs, canes, walkers, etc. However, many senior citizens face another daunting challenge despite owning one or more mobility products – access to their entire home.
Many senior citizens live in a multiple story home or condo, and as they continue to face mounting health issues, ascending and descending their stairs becomes a major obstacle, and oftentimes eventually becomes impossible. As a result, millions of people dealing with this obstacle face a heartbreaking dilemma – lose access to a large portion of their home, which usually includes their bedroom, or move into a more suitable residence. Such ones have in most instances spent many years in their homes, building up a lot of sentimental value. And of course, with today's real estate market being what it is, the prospect of moving becomes quite an expensive and unpleasant choice to be forced to make.
Now there is a much more affordable and palatable option available to our senior homeowners – purchasing a stairlift. What's ironic about this cost-effective product is that most people in the United States are unaware that it even exists. Hop on a plane across the Atlantic to the U.K., and you'll find that stairlifts have their own section in the Yellow Pages. However, here in the U.S. awareness for this product, while steadily growing, still remains comparatively low.
A stair lift allows a homeowner to not only stay in his home, but have access to his entire dwelling again. The need to move the bedroom downstairs is eliminated. The heartbreaking prospect of moving out of the place they call home simply because they're no longer able to get up and down the stairs – gone, along with the stress that comes with trying to sell their home and purchase a new one.
Purchasing a stair lift is by far the most cost-effective solution to the issues raised by a person's inability to traverse their stairs. Instead of spending tens of thousands or more on expensive permanent home modifications, a stairlift for indoor use typically costs $2000-3000 depending on make, model, and whether it is professionally installed. An outdoor stairlift typically costs around $1000 more than its indoor counterpart.
A stairlift is a mobility lift consisting of three major components – a rail (or track), a carriage, and a seat. The rail is attached to the stairs (not the wall), and the carriage and seat travel along the rail up and down the stairs. It's a fairly simple device with very few moving parts, which means there is little that can go wrong. Installation is also simple, leading many to opt for self-installed models instead of pricier brands that require professional installation.
These handicap lifts are easy to operate with the simple press of a toggle or rocker switch. Most models also come with wireless remotes for "calling" and "sending" the lift. Today's models are also battery powered – utilizing a D/C motor that will operate even during a power outage. This fantastic feature gives homeowners peace of mind that they will never get stuck in the middle of their stairway because of a power failure.
As more and more baby boomers ascend into their golden years, the need for stairlifts in this country will continue to grow and expand, as will its awareness. It would not be surprising to see the "stairlift" listed in the American Yellow Pages in the near future. Until then, those looking for more information or wishing to purchase a stairlift can go on the Internet and visit sites such as http://www.theliftstoreusa.com and http://www.homeliftstore.com.