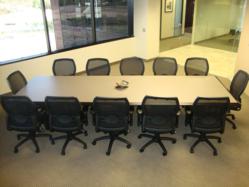 Leaving commercial space empty when it could be earning revenue is a crime that no longer needs to be committed.
(PRWEB) March 29, 2013
Todays expanding corporate demand for flexible, cowork, mobile work and telework space for their employees presents real opportunities for tenants, landlords and property owners.
Corporations are looking to significantly reduce corporate real estate costs, while enhancing employee productivity. Your Office Agent's online resource of 40,000 drop in and long term workspaces in over 3,000 locations can now be linked into standard spaces from landlords looking to generate additional revenue. The current network of locations includes the fastest growing and most comprehensive listing of executive suite, cowork, telework, meeting room, collaborative and third place working solutions available anywhere.
In addition to adding excess workspace to the YOA database, the company also offers a resource to eliminate larger chunks of mothballed or unrented space by incorporating an innovative managed space model to facilitate flexible leases by other interested companies.
To round off their excess space solutions, Your Office Agent partners with the leading space efficiency implementers in the industry to transform self-contained, underutilized space into off site teleworking centers. The partner that makes this possible is Satellite Telework Centers, the only automated telework center network in the world. These telework centers are ideally positioned to be implemented with little capital expenditure, no balance sheet liability and an ongoing profit share which can become an extremely profitable revenue stream for commercial property owners of all types. Together, Your Office Agent and Satellite can set up fully automated, fully systemized, secure offsite workspace centers of any size to fit a mobile and dispersed workforce. Satellite and Your Office Agent are able to offer 24/7 access for each site's members through automated systems and technology, reducing commutes and CO2 emissions, while making space available near workers' homes on the schedules they need. For many workers who have no appropriate space at home, these centers make teleworking, and its cost-saving, productivity and environmental benefits, possible.
The specialist online workspace portal is introducing these services in response to the biggest challenges facing corporations today: the need to reduce costs and increase flexibility in both Workforce and Workplace. Until now it was difficult for corporations to increase worker productivity, efficiency and well-being while decreasing personnel and real estate costs. The team at Your Office Agent believes that their agile workplace solutions will revolutionize the facility industry by allowing companies of all sizes the ability to make their facility solutions as agile as their business plan needs to be.
Your Office Agent's resources allow both landlords and tenants to transform their underutilized space to align with corporate fiscal objectives and workforce productivity, real estate, workplace and agile working needs. With new technologies empowering employees to work virtually, remotely and collaborate securely from anywhere, the corporate cost of maintaining and operating the workplace can decrease, while productivity increases. Indeed, both HR and Admin costs have been shown to decrease, along with facilities costs, as employees become more mobile, while 60% of reduced commute time is typically used by employees for work.
As corporations globalize, the challenges of implementing a mobile workforce strategy can also be addressed with a new offering from the specialist team. Your Office Agent's solutions solve the worker productivity and IT security needs by offering centers throughout the world with plug in, collaborative and stand alone spaces, allowing employees to use their own laptops, hardware and security software. A tailored solution is incorporated using Your Office Agent's online network of 40,000 drop in spaces to map workforce needs to all available workplace inventories. Business analytics is now merged with a powerful, flexible real estate platform to align corporate initiatives with the perfect officing solutions.
The outdated brick and mortar concept of low value commercial real estate advice and corporate large office solutions are gone, and companies of tomorrow need to have solutions available today. With today's technologies and productivity tools, workers can collaborate in real time, address business initiatives and move those initiatives to completion in workspaces that promote a better quality of life and allow for increased productivity. Your Office Agent is uniquely positioned to collaboratively harness the needs of corporations, real estate firms, coworking companies and individuals into a shared platform to reduce costs and find the best workspace solutions. You can contact the team on 800 600 0881 or contact@yourofficeagent.com.