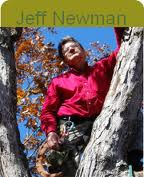 We are creating new classes to provide more emphasis on the "Fun" aspects of Tree Climbing such as Limb Walking and Traversing from setting to setting, even moving from Tree to Tree
Atlanta, GA (PRWEB) March 30, 2013
Tree Trek Announces new Tree Climbing Classes developed for the Recreational Tree Climber. "In the past most climbers have come from the ranks of Researchers climbing to gain access to the forest canopy to collect samples or make observations, however recently more and more students are seeking out tree climbing instruction for Recreational purposes"; add Jeff Newman (an instructor at tree Trek".
"Due to the increase in the recreational arena Tree trek has developed the Basic Tree Climbing Class to provide more emphasis on the "Fun" aspects of Tree Climbing such as Limb Walking and Traversing from setting to setting, even moving from Tree to Tree. After taking up Recreational Tree Climbing people often say that they will never see trees the same way again"; adds Joe Mayer (another instructor at Tree Trek". Additionally Tree Trek has added a New Class called Beyond the Basics, This class focuses on the advanced climbing skills and Rigging methods that aid the recreational climber in getting into larger trees and even setting up Tree Hammocks, called "Tree Boats" and "Porta-Ledges" for camping in the trees.
"Recreational Tree Climbing, sometimes referred to as "technical" tree climbing, originated within the arborist trade as a method for safely working in and removing trees. The type of climbing that has developed into recreational tree climbing uses NO spikes and is NOT harmful to the tree being climbed' says Newman
"One of the more common questions asked is: How do you get the rope up there? Sometimes that story starts out with a trained squirrel carrying a line up into the tree… the truth is that a light line with a throw bag attached is either thrown or launched over a limb then the climbing rope is hauled into place. This is referred to as the entry pitch; other settings are established in a similar manner with the climber throwing while up in the tree and attached to the rope. In this way a climber can move up as well as around within a tree or even traversing to another tree"; adds Mayer
"Some people may ask is this safe? Our tree training school is one of the most well established Tree Climbing Schools"; says Newman. Tree Trek is located 75 minutes north of Hartsfield International Airport on the west side of Lake Sidney Lanier, Georgia. To learn more about Tree Trek just follow the link: Tree Classes.
This released was sponsored in part by SleeveCo a leader in shrink and stretch sleeve labeling. if you would like to learn more about SleeveCo you may follow them on Twitter.