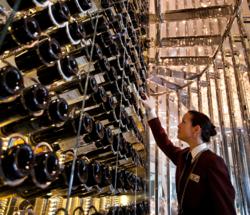 Montrose, CA (PRWEB) March 31, 2013
Montrose Travel, a $160+ million full-service travel and host Travel Management Company, has partnered with Touring & Tasting, the Premier Guide to Wine Country, and Celebrity Cruises® to serve up a series of exclusive wine and cruise experiences.
According to Melissa Truskett, Montrose Travel's Group Division Manager, "This is the first year we've done an exclusive wine cruise like this, and these cruises are definitely hot. They are selling out fast and we are looking forward to expanding the program in 2014 with new itineraries and additional wineries."
Onboard one of Celebrity Cruises' newest Solstice Class ships, guests will have the rare opportunity to engage directly with the owners and winemakers from participating award-winning California wineries via an exclusive wine reception, wine-tasting seminars and a four-course wine pairing luncheon. Celebrity Cruises also immerses these guests in a special wine experience with a sabering at sea demonstration and a guided tasting tour of the champagne galley and the magnificent glass wine tower.
Cruise itineraries include Alaska, the Mediterranean and the Caribbean, with each unique departure highlighting select wineries and vineyards throughout California. The participating Winery, Cellar and Vineyard owners will be onboard their respective cruise, showcasing their wines, giving presentations, and answering wine-related questions.
Along with enjoying the exquisite flavors of the California wine regions, guests will experience Celebrity's "Modern Luxury" accommodations, including numerous dining options, spa services at the enhanced AquaSpa® by Elimis® or fun activities such as a game of lawn bowling on the superbly manicured grassy expanse of the Lawn Club.
"Celebrity Cruises has positioned itself as a lifestyle-oriented brand with a strong emphasis on wine and food," says Truskett. "This makes for a strong synergy between Montrose Travel, Touring & Tasting magazine and Celebrity, and a very attractive experience for travelers. We want to awaken your inner wine connoisseur!"
Details on Montrose Travel's exclusive wine cruises is available by visiting http://www.MontroseTravel.com/wine-cruises or by calling Montrose Travel's Group Travel Division at (800) 301-9673.
ABOUT MONTROSE TRAVEL
Celebrating 56 years in business, Montrose Travel, a family-owned travel management company, has grown from 14 employees in 1990 to more than 150 today and is now firmly established as a Top 50 Travel Management Company and a Top 5 Host Agency nationwide at $160+ million in sales. Montrose Travel strives to provide the highest quality services and most complete vacation, corporate travel, loyalty and group travel management solutions for its customers and home-based travel agents. Montrose Travel "will be here tomorrow to back up our promises of today!" Montrose Travel can be reached at 1-800-MONTROSE (666-8767) or by visiting http://www.montrosetravel.com. Visit Montrose Travel's Corporate Division at http://www.montrosecorporatetravel.com or call 1-800-766-4687. Home-based independent agents may visit http://www.MTravel.com, email andi@montrosetravel.com, or call 1-800-870-5799. CST#1018299-10
###