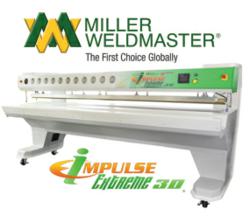 Navarre, OH (PRWEB) March 30, 2013
Miller Weldmaster once again has shown why it is the First Choice Globally of all industrial fabric manufacturers. It has upgraded its Impulse Extreme 3.0 with an automation option and attributes for effortless fabric and weldable zipper positioning to accommodate the production demands of the blind and awning industry. The company is excited to showcase this product's new design and innovation at the upcoming Vision International Window Coverings Expo in New Orleans, LA.
The newly upgraded machine features multiple innovations and an ergonomic design for manufacturing versatility and easy-to-use operations. It utilizes a fully automatic folding option for a timely, seamless production experience by eliminating the need for material set-up. The machine features a zipper configuration with a fabric alignment guide, allowing for effortless positioning of fabric and weldable zipper; it also incorporates over 10 programmable menu options for easy recall operation.
At the tradeshow, Miller Weldmaster will be one of the 200 wholesaler, manufacturer and fabricator exhibitors from 10 countries around the world presenting its products and services.
About Miller Weldmaster
Miller Weldmaster, the first choice globally of all industrial fabric welding solutions, has offered rotary hot air, hot wedge and impulse welding equipment to the industrial fabric and thermoplastics industries for forty years. For the fabrication and automation of various products from awnings to truck tarpaulins, to inflatables, Miller Weldmaster has developed many of the first advancements in heat sealing technology. The company's historical record of industrial "firsts" demonstrates its ability to research, design and build solutions using the most current and innovative features of the industry. Having sold machines in over 100 nations around the world, and with distributors in 20 countries, Miller Weldmaster Corporation is a leading international manufacturer and provider of solutions for plastic welding machines with a commitment to customer satisfaction. The company is headquartered in Navarre, Ohio, USA.###