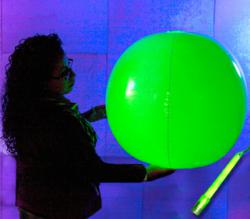 Los Angeles, CA (PRWEB) March 31, 2013
Everyone wants to throw a glow theme party – at least that's been the growing consensus in recent months as glow in the dark parties and events grow in popularity around the country.
To meet the needs of glow in the dark party planners everywhere, Glowsource.com, internet retailer of glow in the dark and light up party supplies, has increased their line of wild, LED party supplies to decorate glow parties.
According to many party planners, finding unique light up party supplies is key to a memorable party, and Glowsource.com offers these and cheap glow party supplies on their site.
Here is a look at some of these new glow in the dark party supplies and LED novelties that are sure to make any party a hit:
Light Up Balls – Great for tailgating or outdoor events, pool parties, or even fun corporate events, a logo on a beach ball is a really unique way to showcase a company, sports team, or special birthday person.
LED Gloves – These light up gloves are the hottest new trend at parties everywhere. They create neon lines and shapes as they're waved through the air. Perfect for pairing with light up necklaces to really get set the party off.
LED Shutter Shade Sunglasses – A new style of light up sunglasses, shutter shades call attention to partygoers near and far. No one wants to be left without a pair of these rad sunglasses.
Glow Mustache Tattoos – As if mustaches, tattoos and glow in the dark party favors weren't already cool, now they've all been integrated into one hot product! Pair with black light makeup and look like a neon superstar!
LED Glow Cup – This cup looks like the popular atomic glow cup, except better because it's battery powered and reusable. It's available in five different colors, including a multi-colored cup.
Strobe Light – No party can ever be complete without an LED strobe light. Bright and flashing, this light adds a nightclub element to any party. This light also works great to set off light up balloons that people can't get enough of!
To view more neon party supplies, glow in the dark party supplies, and LED party supplies, contact whitney [at] glowsource [dot] com.
About Glowsource.com:
Glowsource.com strives to provide customers with a wide range of one-of-a-kind glow and light up products for making parties a memorable success. Offering wholesale/bulk and discounted prices, Glowsource.com is a complete one-stop shop for must-have glow and LED items.
Established in 1999 with the introduction of "Cool Glow" drinkware, Glowsource.com has since been bringing customers the latest lighted and glow party supplies to make parties tremendous fun. With 13 years experience and superior customer service, Glowsource.com is the ultimate glow party supply shop!