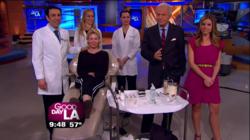 Los Angeles, California (PRWEB) March 29, 2013
According to a March 15, 2013 US News & World Report article, a study conducted by Italian researchers suggests that those considering plastic surgery to achieve harmony and balance in their facial features should consider a combination of a nose job and chin augmentation. By combining rhinoplasty and genioplasty procedures, patients generally improve their chances of attaining the desired results, as this combination eliminates the risk of chin shape imbalance (Go to goo.gl/k1I9c).
"I agree with the study's basic premise that improving nose-chin-neck symmetry is likely to offer the best overall result," says Dr. Ourian, Medical Director of Epione Beverly Hills. "In my practice we offer non-surgical options for both the nose and chin and it's not unusual to combine the two treatments."
The study covered the post-surgery results of 90 individuals who underwent simultaneous nose jobs and chin surgery procedure between the years 2002 and 2004. The findings of the study show that nearly half of the people who underwent chin reduction procedures did not have any subsequent changes in the shape of their chins. Over 52% of those who had chin extension surgery had a balanced facial profile three years after their surgical procedure.
While rhinoplasty may improve a patient's facial profile, performing this procedure simultaneously with genioplasty generates better aesthetic results. The nose-chin-neck relationship determines whether the patient's face is aesthetically proportionate or not. Rhinoplasty can successfully correct a large or crooked nose but it cannot address imbalance or lack of harmony of facial features. .
Overall, patients seeking to use plastic surgery to improve the proportions of their facial profiles are better off getting chin surgery and a nose job at the same time since neither done alone is likely to achieve optimal overall aesthetic improvement.
"I certainly understand from a patient perspective that the additional expense of combining two procedures may be daunting," concludes Dr. Ourian, "but, in my opinion, the overall aesthetic result will be better."
Dr. Ourian has been a pioneer in laser technology and non-invasive aesthetic procedures including Restylane, Juvéderm, Radiesse and Sculptra. These treatments are used for the correction or reversal of a variety of conditions such as acne, acne scars, skin discoloration, wrinkles, stretch marks, varicose veins, cellulite, and others. More information about nose surgery and chin implants can be found on Epione's website.