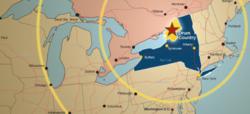 In Drum Country, businesses don't come and go, they come and grow.
Jefferson, Lewis and St. Lawrence Counties, NY (PRWEB) March 30, 2013
Drum Country Business is the regional economic development organization serving Jefferson, Lewis, and St. Lawrence Counties, and centered around Fort Drum, in upstate New York.
In the recent round of funding through the ConnectNY Broadband Grant Program, the Drum Country region is included in the Development Authority's two projects and in a very small portion of the Time Warner Project. The public emergency network will expand beyond Drum Country as well. These awards are only the most recent announcements by NYS in broadband investment in Drum Country. The Authority, as well as Time Warner and SLIC, a local telecom provider, have been beneficiaries of significant federal and state investment for middle and last-mile infrastructure builds over the past four years.
"Drum Country is now on a level playing field with metro areas in regard to access to high-speed telecommunications infrastructure," said Michelle Capone, Director of Regional Development, Development Authority of the North Country (DANC). "The advantage is not only in the strength of our network backbone, but in middle-mile and last-mile access. The Authority's open access telecommunications network is now over 1,200 miles of fiber optics with complete redundancy. The network is 'self-healing' providing companies with a high level of reliability, once only thought obtainable in metro areas, now obtainable in northern New York State," continues Michelle. "Like water and sewer, access to telecommunications is a basic infrastructure for businesses and Drum Country has the inventory to meet growing business needs."
In Drum Country, businesses don't come and go, they come and grow.
The expansion of Stream Global Services, Inc., a customer service support center located in Watertown, chose to invest over $4M bringing its total employment to 1,000. "The expansion of Stream Global is a 'win' for the region," said Michelle. "The company is in its 10th year and could have moved anywhere. However, with the infrastructure and workforce in place, it chose to invest and expand in the area served by Drum Country Business."
This growth makes Stream Global Services, Inc. the third largest employer in Jefferson County. As a whole, New York State is a major player in these industries, ranking in the top five among all US states.
"With the recent and on-going investment by New York State in rural broadband, not only is Drum Country on a level playing field, but ahead of the field," said Michelle. "We have been able to invest and RE-invest in backbone infrastructure AND lead the pack in middle and last-mile investment to the home. This not only helps businesses meet their needs internally, but employees are able to enjoy an excellent quality of life with high quality broadband at their doorstep."
"Our Drum Country Business web site by Ady Voltedge has been able to showcase our region's economic development assets as well as our quality of life; key variables for businesses when selecting locations," said Michelle.
"The Drum Country Business region is one of the most wired in the country, and the fact that they are in a rural area makes it really unique," added Janet Ady, President/CEO, Ady Voltedge. "Our team helped identify target industries and messages for Drum Country Business, as well as build their website. Leveraging this unique fiber optic asset was a key reason why they are targeting finance, insurance, and other business process operations."
______________________________________________________________________
About Drum Country Business:
The Drum Country Region is comprised of Jefferson, Lewis and St. Lawrence counties in North Central New York State. Drum Country Business is a partnership comprised of the three countywide economic development agencies, a regional utility, a regional state authority, and a liaison organization between the communities and Fort Drum. Together, we are able to provide you with the tools and incentives needed to make Drum Country the home for your business.
Our experienced, proactive team works closely with Fort Drum and surrounding regional businesses and organizations to make sure they have access to the resources and information they need to make informed decisions on expansion or relocation.
Find us online at: http://www.drumcountrybusiness.com.
About Ady Voltedge:
The main focus of Ady Voltedge is to help economic development organizations attract and grow business investment, and work with corporate clients to select locations that enhance operational competitiveness.
For our economic development clients, our goal is to help create positive growth, and we do that by providing strategy and implementation grounded in our knowledge of how businesses make location decisions. Most firms lack an understanding of the stakeholders they wish to influence: growing businesses, prospects, site selectors, labor, etc. Ady Voltedge has put together a team of professionals with diverse backgrounds for the purpose of bringing that understanding to our economic development clients. We boast expertise in data analysis, site selection, economic development, positioning, branding, and marketing implementation services.
Ady Voltedge also provides a full suite of corporate location strategy and site selection services to corporate clients. We believe that understanding corporate site selection makes us better equipped to provide strategy and implementation services to our EDO clients. Likewise because we provide economic strategy and implementation services we understand how important the relationship between place and business is. We work to find a "win-win" for our corporate clients: a location that supports unique operational needs and is aligned with local strengths to ensure long-term success.
Ady Voltedge's clients include economic development organizations (EDOs), utilities, state agencies and private companies.
Connect: http://www.adyvoltedge.com. @adyvoltedge on Twitter and on LinkedIn.