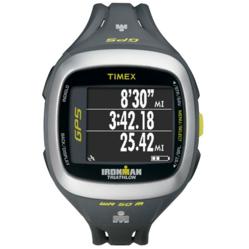 This watch is phenomenal now, it's much easier to use, the menu is much clearer, the screen resolution is tack sharp and it only weighed 2.1 ounces on a digital scale
Bozeman, MT (PRWEB) March 29, 2013
The Timex Run Trainer 2.0 impressed the testers at Heart Rate Watch Company more than any other Timex fitness watch produced in the last decade according to Rusty Squire, President.
"This watch is phenomenal now, it's much easier to use, the menu is much clearer, the screen resolution is tack sharp and it only weighed 2.1 ounces on a digital scale", says Squire. He adds, "It is smaller, lighter and better in nearly every way than the first version of the Timex Run Trainer and I can honestly say we will highly recommend this watch following our initial tests".
The new version gives the Garmin Forerunner 210 and the Polar RC3 a real run for their money according to Squire.
Much Less Button Pushing
When you intuitively design screen menus you greatly reduce the button pushing required to operate the device and greatly increase people's enjoyment of it. "This is as close to the "easy" button as it gets and the screen resolution is the highest quality we have ever tested", says Squire. He adds, "There are a few settings and a little adjusting but when you want to go workout its faster, quicker and easier than any Timex yet".
The Menu button enables moving straight into Chronograph to begin a workout and select from heart rate, lap, distance and four different customized screens with three different variables being displayed per screen. "You can even change screens on the fly if you want to look at different metrics and when you are done simply go to review", says Squire. He adds, "This is so easy and intuitive, which is the way it should be".
Screen Clarity And Reversibility
"The screen definition and readability is vastly improved which is nice added to the fact that the screens are reversible to black or white on both models", says Squire. He adds, "To be honest I had this watch wired, including screen customization all in an hour, which really is seldom the case".
"Training Peaks free versions is o.k., but we still wish that Timex would find a way to develop a slightly beefed up version or negotiate free Training Peaks Pro use because Training Peaks free lags a bit on what Garmin and Polar offer for free", says Squire. He adds, "Kudos to Timex on this watch because it truly is the best watch they have ever made, hands down, and we really like it and its just in time for the Boston Marathon".