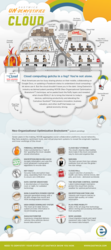 Eastwick's top data scientist noted, "we've finally cracked the code – this is an extraordinary breakthrough that will have a lasting impact on the industry, greater technology, and the world."
Sunnyvale, CA (PRWEB) March 30, 2013
Eastwick, an independent strategic technology communications and PR practice, today announced the launch of the revolutionary patent pending NOOB (Neo-Organizational Optimization Brainstorm) technique. Seven years in the making, NOOB aggregates social collaboration platforms, neural networks, Big Data analytics, sentiment tools, and virtual payment systems to finally reveal the enigmatic logistics and inner workings of the cloud.
According to a recent study, one in five Americans (22 percent) admit that they've pretended to know what the cloud is and how it works. Using the revolutionary NOOB approach, Eastwick has peeled back the fluffy layers of cloud computing and uncovered what clouds REALLY do to bring the Internet to today's desktop, optimizing productivity and elevating the Cumulous Quotient™ that powers innovation and business valuation and other stuff that keeps our global economy strong.
What really happens in the cloud
Neo-Organizational Optimization Brainstorm™ has revealed:

The WCC (Weather Control Center) uses latest technology to protect the cloud from stormy weather for optimal performance
The "workplace of the future" will exist entirely In The Cloud (if you're planning to migrate, the address is 10100 Cloud Lane – they're currently leasing)
Your data is safe: a "wall of fire" guards the most valuable stored information
The flu, along with other viruses, is as much as 17.777% effective in infecting the cloud
The cloud is powered by the best servers from top culinary institutes
Users enjoy all-you-can-compute menus and exclusive performances including the band Width
A sunny outlook for cloud computing
The most important takeaway from the NOOB approach findings is that the cloud is viewed favorably by the majority of Americans, and when people learn more about the cloud they understand it can vastly improve the balance between their work and personal lives. In addition to the fact that 68% of Americans see cloud computing as the future and the key to saving the economy, some reported benefits of cloud computing include:

Being able to work from home in pajamas and bunny slippers, including the HR non-compliant birthday suit
Tanning on the beach and accessing computer files at the same time
Keeping "embarrassing" videos off of their personal hard drive
Dealing with people they'd rather not interact with in person
Increased collaboration – 400% ROI
The future of NOOB
After years of research and development, Eastwick's introduction of the Neo-Organizational Optimization Brainstorm™ technique is accelerating competitive advantage and capitalizing on market innovation. Eastwick's top data scientist noted, "we've finally cracked the code – this is an extraordinary breakthrough that will have a lasting impact on the industry, greater technology, and the world." In today's increasingly glo-mo-so market arenas, enabling B2B/C/P collaboration in BYOD workspaces requires constant MVP innovation and market fragmentalizationing to ensure bilateral relevance participation and universal scalability – in the cloud.
About Eastwick
Eastwick is a leading strategic communications agency that partners with growth-focused tech innovators to build value, activate audiences, and accelerate market leadership. It's mission is to help technology greats – the proven winners and rising stars – accelerate growth and build value. By activating strategic media, analyst, and market influencers, Eastwick drives audience momentum and positions companies to shape and lead their markets. Founded and led by Barbara Bates, Eastwick has guided hundreds of Silicon Valley innovators to new levels of success for more than 20 years. To learn more about Eastwick, visit http://www.eastwick.com and follow @eastwickcom and facebook.com/pages/Eastwick-Communications/24001843455.