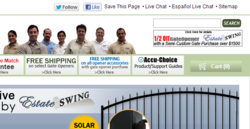 Simplifying assisted website navigation over the phone leads to faster resolutions to questions and happier customers
Odessa, FL (PRWEB) March 31, 2013
In March of 2013 GateCrafters.com replaced their existing site search functionality with one produced by Google. GateCrafters.com sells driveway gates and gate openers directly to homeowners through their website. Driveway gates and gate openers are products that historically were installed through contractor networks by professionals. GateCrafters.com attributes its success in the Do It Yourself market to their ability to simplify products then create and share instructions for for using products from different manufacturers together.
It is the access to information that influenced GateCrafters.com to add Google search to their website. Primarily companies have utilized Google search to enhance the ability of customers to directly navigate their website. GateCrafters.com however has made use of the search to enhance their seven-day phone support with customers installing driveway gates or gate openers on their properties.
To enhance their phone support service for driveway gates and gate openers, GateCrafters.com has identified simple keywords that customers can use to be directed to specific guides in the website. Matthew Raab, Vice President, states, "With Google search on our website we can set up simple keywords for phone direction without having to re-code the page involving that word as a keyword. For example if you type the word help in our search the first link in the search results will be to our accessory wiring guide. This is a common location our technicians on the phone would like our customers to look at because of the wiring diagrams. Simplifying assisted website navigation over the phone leads to faster resolutions to questions and happier customers."
For more information on GateCrafters.com's search or services please visit the website.
GateCrafters.com is a DBA of Web Direct Brands, Inc.
Web Direct Brands, Inc. specializes in an online shopping experience revolving around products that require an in-depth knowledge to purchase and/or use. Web Direct Brands, Inc owns and operates a number of individual websites, all dedicated to the same concept of service and information to enhance the shopper's purchase.