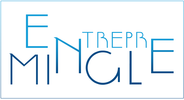 Release your inner entrepreneur!
Lehi, UT (PRWEB) March 31, 2013
No more gladhanding at the local corporate networking event. The new website, Entrepremingle.com is here to change that.
It's a rite of passage for most entrepreneurs. They're told they need to grow their network and therefore they seek out their local corporate networking meeting. There, they believe they will rub shoulders with CEO's who've made it from entrepreneurial dreamer to king of the heap. However, after a few lunches they realize they've yet to meet a CEO or even another entrepreneur. Their pockets are overflowing with insurance salesmen's cards and office supply brochures.
This isn't what they expected when they struck out to grow their network.
These corporate networking meetings also bring up the fact that they're an analog process in a digital world. The same way that Facebook changed the way the world networks, there is now a new website that changes the way entrepreneurs connect.
http://www.EntrepreMingle.com launched to the public recently and they're bringing something new to the table. They're a social network that focuses solely on entrepreneurs. Now, that may sound exclusive. However, when the definition of an entrepreneur is thoroughly examined, the conclusion can be drawn that everyone is a potential entrepreneur.
The internet is actively changing the entrepreneurial landscape. Startup costs are down. Information is plentiful. Previous barriers that were once perceived have been shattered by stories of immigrants, minorities, women, young and old entrepreneurs reaching the pinnacle of success.
Entrepremingle is furthering that change by allowing anyone to create a profile and jump into the entrepreneurial network. A lawyer sitting in a law firm, worried he'll never make partner might create a profile and let it sit. A week later his legal expertise might be of value to a fledgling start up and before he knows it, he's now legal counsel for a hot new company.
The possibilities are endless with this network. And the potential for the entrepreneurial world to expand its borders and begin including everyone is immense.
Mike Tempeman, the owner of the company, enjoys sharing his mantra. "Unleash your inner entrepreneur," he exuberantly states. He himself, a serial entrepreneur, is taking his own medicine and networking with the users of his site. He's an active blogger on the site and regularly takes part in the conversations in the forums.
"This doesn't have to necessarily replace the networking lunches and corporate events. It can work in concert with them," he says, his infectious smile getting wider. "Think of how powerful those events can become when the attendees are meeting online first. They're learning each other's skills and interests before they ever attend the event. That way, there's no chilly reception. The ice is broken. These entrepreneurs are hitting the ground running."
Currently, the site has a few hundred users that were mostly the beta testers. But as Mr. Templeman states, the site is growing quickly and he's very hopeful for the future.