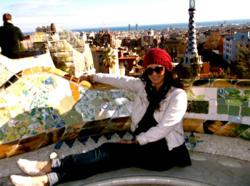 Teaching English abroad has a much stronger appeal to me than does backpacking through Europe.
Chicago, IL (PRWEB) March 30, 2013
Chicago-based International TEFL Academy, a world leader in TEFL (teaching English as a foreign language) certification courses for teaching English abroad, has announced that it is expecting record enrollments in 2013 as more graduating college seniors seek teaching opportunities overseas.
"Facing a difficult job market at home, more college graduates are learning that teaching English abroad offers a great opportunity to gain international work experience and to see the world," said Bruce Jones, President of International TEFL Academy.
According to Jones, International TEFL Academy certified nearly 1,200 people to teach English abroad in 2012 making it one of the largest TEFL training schools in the world and enrollments in 2013 are on pace to be even higher. While English speakers of all ages teach abroad, Jones says that approximately 75% of those who earn their TEFL certification at International TEFL Academy are either college students looking to go abroad after graduation, or recent college graduates.
"There are nearly 1 billion people taking English classes around the globe," Jones added. "So there are approximately 250,000 English teaching jobs that open each year. In addition, teaching abroad offers the opportunity to live, work and travel in a foreign country."
"After college I needed a job that would allow me to find myself and experience foreign culture at the same time," said Lexi Sabatino, a recent college graduate from Philadelphia who is teaching English in Spain. "I knew I wanted a Latin country and Barcelona seemed like such a young and magical city. I wanted to live in a place that suited my age and mentality."
"Teaching English abroad has a much stronger appeal to me than does backpacking through Europe," wrote Sarah Harman, a senior at Ohio State University, in Back to School: TEFL Certification and Teaching English Abroad. Harman recently enrolled in an online TEFL certification course and plans to teach English in South Korea.
"Living and working in a country for a year is very different than seeing the sights and moving on. I'll have the opportunity to make long-lasting friends and really immerse myself in the culture. It's this deeper understanding of a people and a place that interests me."
According to Jones, the vast majority of first-time English teachers abroad have no teaching experience or background in education, but young certified teachers facing a tough job market are also finding that teaching abroad provides opportunities for professional development and international adventure.
"I am a certified English teacher from the United States (Michigan) who had difficulty finding a full-time teaching job just out of college," said Jamie Belisle of Brighton Michigan who is now teaching English in Ecuador. "I have always loved traveling and have always wanted to explore the world."
Jones said that International TEFL Academy graduates teach English abroad in 80 countries around the world. Major European nations such as Spain and Italy are popular, as are Latin American countries like Argentina, Chile and Costa Rica, but according to Jones, Asia has clearly emerged as the top destination for new college graduates who earn their TEFL certification.
"Asia is the largest job market in the world for teaching English abroad," Jones said. "There are 300 million people learning English in China alone, and there are tens of thousands of job opportunities in nations like Japan, Korea, Vietnam and Thailand as well."
"In addition, those who teach English in Asia are typically able to save 30%-50% of their monthly salary after expenses and in nations like China and Korea, it is typical even for first-time English teachers to receive benefits like free housing, airfare reimbursement, health insurance and paid vacation."
To learn more about teaching English abroad and TEFL Certification classes, Request a TEFL Certification brochure or call 773-634-9900.
International TEFL Academy (ITA) is a world leader in training and certifying English speakers to teach English abroad. Based in Chicago, IL, ITA trains more than 1,200 English teachers annually and offers internationally accredited TEFL TESOL certification courses online and in 25 locations around the world. All students and graduates receive lifetime job search guidance and graduates are currently employed as teachers in dozens of nations in Europe, Asia, Latin America and the Middle East.
For more information, please visit: http://www.internationalteflacademy.com