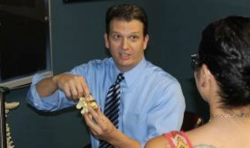 The new Health Care
(PRWEB) March 30, 2013
Friday March 29th Go HealthCare 72880 Fred Waring Drive, Palm Desert, CA 92260 (760) 346-4698 Dr. Jeff Stansbury, D.C., announced today that he is expanding healthcare services available. Dr. Stansbury, a chiropractor in Palm Desert for 12 years, has watched his practice grow to more than 20,000 visits per year. The needs of Go Healthcare's have changed also.
Today Dr Stansbury announced the addition of a physician and a nurse practicioner to his staff to provide full chiropractic and medical coverage. Never one to accept the notion that pain has to be part of life Dr. Stansbury offers a preliminary free consultation – a $150 value – at Go Healthcare, his chiropractic office in Palm Desert. is among the arsenal of tools the medical community has available to fight pain. To that end, Dr. Stansbury offers The Palm Desert chiropractic Complimentary Consultation and shows how gently moving the spine back into position helps to relieve pain. Moving other major skeletal groups back into position has similar results. Dr. Stansbury also uses deep muscle massage and electrical stimulation of major muscle groups to help relieve pain.
Sometimes, though, chiropractic in Palm Desert, needs medical help so that Dr. Stansbury has brought aboard a doctor and a nurse practicioner to round out Go Healthcare's options as there are some medical situations that require the intervention of a doctor or nurse practicioner (illness or a broken leg, for example). This addition broadens the options available to a patient at Go Healthcare.
About Go Healthcare: Founded 12 years ago by Dr. Jeff Stansbury, D.C., the practice has grown to more than 20,000 visits last year. Dr. Stansbury recently expanded Go Healthcare's flexibility with the association of a doctor and nurse practicioner with his staff. For further information contact: the benefits he found through the application of chiropractic to a patient's life. For further information, contact: Gohealthcare@gmail.com or (760) 346-4698.