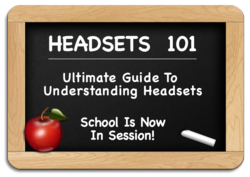 (PRWEB) March 30, 2013
Where do headsets plug in? What's a Quick Disconnect? How about an EHS cable? Everyday questions from potential headset users, that until now, have been wandering the Internet aimlessly, only finding products to buy, but nothing to explain what they need, how it works, and what plugs in where. The Ultimate Guide to Understanding Headsets will save time and money from having to re-order the correct products.
The Ultimate Guide to Understanding Headsets goes into depth, with pictures and explanations showing what a Quick Disconnect is and how it connects a corded headset to an amplifier or Direct Connect cable, depending on the phone. Also covered are the pros and cons of using the traditional amplifier, or whether a less expensive Direct Connect cable would be a suitable option. The Guide doesn't stop there, as it shows headset wearing styles, common accessories, and much more.
Multiple needs are covered in the Ultimate Guide to Understanding Headsets, so anyone can easily learn about; corded or wireless headsets for the office, headsets for home, corded and Bluetooth headsets for mobile phones, and last, computer and PC headsets. With each application, different connections and cables will be required, so learning and understanding before making a purchase will remove frustration when it's time to install.
Wayne Baumgartner, President/CEO of Headsets Direct, said, "Most online companies only care about selling. We have spent hours developing our web site, and we will continue to spend hours updating our site to give our customers a better, frustration free headset experience, so they understand what they need, why they need it, and how it will function."
Headsets Direct is an authorized Plantronics stocking distributor and has been a specialist in the headset industry since 1996, carrying the full line of Plantronics corded, wireless, and Bluetooth headsets. We give customers the resources, and ultimately, confidence in their decision of finding the perfect solution to meet their headset needs.
"Spending 15 minutes reading our Ultimate Guide to Understanding Headsets will empower individuals to make an educated decision about their headset needs, allowing them to purchase, install, and quickly start using their new headset, leading to a hands-free, more productive work day", said Mr. Baumgartner.