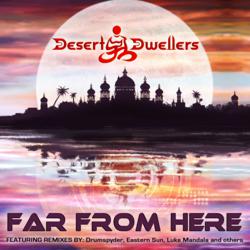 Bringing the electronic bass music vibe to the yoga scene, and the sounds of yoga to the electronic dance scene, Desert Dwellers' global sounds are the bridge between worlds.
Boulder, CO (PRWEB) March 31, 2013
Breakout psy-chill/electronica upstarts Desert Dwellers are preparing to drop a seven-track suite of downtempo remixes featuring some of the top artists in the modern bass movement – a scene in which Desert Dwellers are rapidly building a reputation for their production skills and live performance prowess.
Electronica champions Drumspyder, Eastern Sun, Solar Lion and Luke Mandala mine the depths of the multi-layered "Far From Here," coaxing alluring rhythms and vibrant textures from the Desert Dwellers' dancehall burner. In addition to the original version, the EP also includes remixes from Blue Lunar Monkey and A. Mantra.
Desert Dwellers posted a "teaser set" of the "Far From Here" collection (releasing 4/30 from Black Swan Sounds) to their Soundcloud page and are getting over 1000 listens per day. That kind of response, coupled with the exponentially growing attendance at their shows, indicates that Desert Dwellers' original global bass sound is touching listeners worldwide.
After playing earlier this year in Egypt, Belize and Costa Rica, as well as several jam-packed dates in North America, the duo (Amani Friend and Treavor Moontribe) the duo are setting up their new digs in Amani's hometown of Santa Fe. They'll barely have moved into "The Bass Base" before heading out on the road again for a busy summer of club gigs and festivals across North America.
Taking a new approach to digital production, Desert Dwellers have combined the raw sounds of the natural world with skillfully blended deep bass, earthy percussion, etheric voices and culture crossing instrumentation into sonic incense for the mind and body. With this blend of dance tracks and down tempo sounds they have enabled themselves to give a heightened sense of being to listeners through their musical medium.
Bringing the electronic bass music vibe to the yoga scene, and the sounds of yoga to the electronic dance scene, Desert Dwellers' global sounds are the bridge between worlds. Joining solid groove with sounds of serenity, their signature aesthetic feels as natural on the dance floor as it does after hours or on the mat. Due in no small part to Desert Dwellers' pioneering spirit, the very concept of chill-out and sacred bass music has expanded dramatically. These sound alchemists offer cutting edge techniques that blend the modern edge of electronica with ancient and organic sounds, offering a spellbinding hybrid with echoes of our tribal past and future. The result has been the prolific production of genre blending dance tracks and downtempo grooves that make for truly memorable listening experiences.
Blending a variety of sources that have been composed to form a carefully-woven set of sounds coinciding in perfect harmony together, Desert Dwellers have established themselves as a force to be reckoned with on the transglobal bass scene.
***
Black Swan Sounds (launched in 2011 as an imprint of White Swan Records), patrols the cutting edge of yoga music, presenting a full measure of Beats With Devotion. Uplift, positivity and community are the unifying theme in a catalog ranging from ethno dub and organic hip-hop to psychill soundscapes and global electronica. Artists include yoga hip hop pioneer MC Yogi, turntable master DJ Drez and global bass phenoms Desert Dwellers and the newly signed Adham Shaikh.
***
Far From Here track listing
1. Far From Here (original version) 3:47
2. Far From Here (Drumspyder Remix) 5:44
3. Far From Here (Luke Mandala Remix) 6:16
4. Far From Here (Blue Lunar Monkey Remix) 8:19
5. Far From Here (Eastern Sun Remix) 4:49
6. Far From Here (Solar Lion Remix) 4:40
7. Far From Here (A. Mantra Remix) 4:45
***
Desert Dwellers Tour Dates
4/17 Zanzibar (Luminous Movement) Santa Monica, CA
4/20 Electrip Poncho, Canyon Guatalupe, Tecate (Mexico)
5/18 Longhorn Caverns, Burnet TX
6/15 Sonic Bloom Festival, Georgetown, CO
6/22 The Bounce Festival, Plumas County, CA
6/28 Firefly Gathering, Flagstaff, AZ
6/29 Human Nature Festival, Tidewater, OR
7/5 PEX Summer Festival, Darlington, MD
7/26 TBA, Denver, CO
7/27 Motion Notion, Golden, BC (Canada)
8/17 Manitoba Electronic Music Exhibition, Winnipeg, MB (Canada)