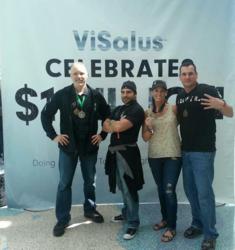 Taking the Body By Vi 90 Day Challenge together solidified a friendship through a common bond of living in excellent health!
Tampa, Florida (PRWEB) March 30, 2013
"The Vi-Tastic 4" of Tampa Bay, Jamie and Sandra Clark, Joe Poretta and Allen Milletics, were finalists in the #1 Weight loss and Fitness Challenge, the Body By Vi 90 Day Challenge, which awards $47 million in prizes to its winners. As winners, they earned a photo shoot, a feature in the Vi-Life issue of Success Magazine, $500 in Vi-gear to show off their new summer bodies, and $250 in free ViSalus products.
The Vi-Tastic 4 team weren't even friends before the Challenge, but found a common bond and formed a great friendship in the effort to regain their vitality in pursuit of the WIN. Over the course of 90 days, the 4 friends worked out 6 days a week and took regular weigh ins and measurements to track their progress, holding each other accountable. They posted their updates daily to their Facebook fan page, and grew a following of people who cheered them along.
Together the team lost a total of 120 pounds on the Challenge. Jamie and Allen both completed "Project 10", where every week in 2013, ViSalus awards a total of $10,000 to 10 people who lose 10 lbs on the Challenge. That small win led to far greater gains in confidence and motivation for the team.
"We want to share the knowledge that we've gained by studying the success of people who have lost weight and transformed their health through the Body by Vi Challenge. What we learned is that losing those first 10 pounds can do wonders to someone's motivation for long-term transformation," said Ryan Blair, Co-Founder and Chief Executive Officer of ViSalus.
The Gasparilla Distance Classic was the final Challenge for the team, none of which had ever run a competitive race. It was truly a victory for them to complete, and to run alongside true athletes for the first time in their lives.
Now that the Vi-Tastic 4 has won, they are dedicated to helping others achieve their weight loss and fitness goals with the Challenge. People who are up for The Challenge can visit http://www.TryShakeFree.com to get more information on the Body By Vi Challenge.