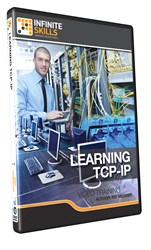 Learn TCP/IP At Your Own Pace
(PRWEB) March 31, 2013
Software training firm InfiniteSkills Inc. this week introduced its "Learning TCP-IP Tutorial," a course that explains the functionality and interaction of various protocols involved in computer network communication.
TCP-IP, transmission control protocol and internet protocol, is the set of communications protocols used by the internet and similar networks. TCP/IP allows for end-to-end connectivity, specifying how data should be formatted and addressed in order to be transmitted, routed, and received through a network.
Learning TCP-IP Training Video - DVD
InfiniteSkills' Learning TCP/IP Training Video explains the technical details involved in the process of connecting, sending, and receiving information across networks so that students can understand how systems interact and learn how to monitor an gather information about networks.
Course author Ric Messier has been an IT professional for nearly 30 years. With a primary focus in network security, he has performed numerous forensic investigations for corporations and law enforcement agencies. He is a Certified Information Systems Security Professional and a Certified Ethical Hacker, and currently teaches on the college level at Champlain and Brandeis Universities.
In InfiniteSkills' Learning TCP-IP Training Video, Messier takes users under the hood of computer networking, explaining fundamental networking protocols, email protocols, as well as some key tools for gathering information from a network.
After an overview of the course, Messier begins explaining TCP-IP Fundamentals, connection protocols, internet protocols, and how they function and interact to process web information.
The course looks at technical details such as protocol headers, handshakes, and port behaviors, going in depth with all the protocols that underlie user experience of the web.
Additional chapters cover other familiar protocols such as HTTP, SMTP, as well as the mail protocols, IMAP and POP3, among others. A chapter also covers network analysis, exploring how an understanding of these protocols can help network administrators detect intrusions, work with firewalls, and analyze network traffic.
"We'll explore everything involved in using these utilities," Messier says. "I'll explain how they work and operate as well as the information you can get from them to improve network performance."
Free demo videos and a full list of course contents can be found on the Learning TCP-IP Tutorial training page of the InfiniteSkills website:
http://www.infiniteskills.com/training/learning-tcp-ip.html
InfiniteSkills offers its Learning TCP-IP Tutorial either as a DVD or a direct download from the company website at a retail price of $99.95. All InfiniteSkills titles and formats are both Mac and Windows compatible. Shipping is available around the globe. Additionally, InfiniteSkills tutorials are supported by project files which correspond to examples in the videos, allowing users to work alongside experienced instructors right on their computer or iPad.
About InfiniteSkills Inc.
A leader in the field of software training, InfiniteSkills strives to offer the highest quality training available at an affordable cost. InfiniteSkills tutorials are task-oriented instructional videos, teaching complex skills by providing hands-on examples and guiding users as they carry out critical objectives. InfiniteSkills offers a comprehensive range of software titles available as DVDs, digital downloads, and in iPad editions, keeping with company aim of delivering professional training to customers anywhere they want to learn.