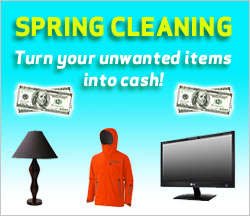 (PRWEB) March 31, 2013
Before throwing away old gems this Spring there are some things to remember. The season is known for people moving, garage sales, and bargain hunters. Instead of just throwing away these unwanted treasures try an online ecommerce site like Myzilch.com.
Kenneth Mathurin, founder of Myzilch.com, lists a number of items to be mindful of selling this Spring cleaning season. Household items, furniture, home decorations, and electronics are all popular this time of year. Mathurin also notes that this is the best time to get rid of unwanted winter items. The end of winter makes a great opportunity to list winter jackets, snow blowers, and boots at a discount for bargain hunters to purchase.
This online ecommerce site can help people jump start their Spring cleaning by giving members the option to buy and sell using videos. Myzilch.com makes selling online easy with a three-step process where users: sign up for an account, create a video, and list the item. Then users just sit back and watch the bids come in. The browsing process is just as easy and is much more personal through the showcased videos users create to show off today's most asked for items.
Myzilch allows users to find the best bargains and hottest in-demand items in a broad range of categories, ranging from antiques and arts to consumer electronics and camera gear. They've also set up an easy checkout with PayPal to make the whole process more streamlined and easy for shoppers.
About Myzilch.com:
Myzilch.com is a social community site founded with the premise and the ultimate goal of becoming the leader in video community shopping. The website provides a one-on-one experience where buyer and seller meet through video demonstrations, bringing the personal touch back to online shopping. To discover what Myzilch.com can do for you, visit http://www.myzilch.com.