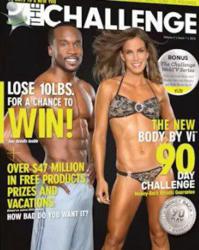 We are thrilled to help our neighbors in the UK to achieve their weight loss and fitness goals, just as we have helped millions across North America. The Body By Vi Challenge is proven and guaranteed ~ there is nothing to lose, but the weight!
Birmingham, UK (PRWEB) March 30, 2013
Birmingham, UK has a soaring obesity rate of 25% of the adult population (Obesity in the UK, University of Birmingham 2013). The Body By Vi UK Challenge is now available to the citizens of Birmingham, UK to help them meet their weight loss and fitness goals, with a 90 day results guarantee. The Challenge is North America's #1 weight loss and Fitness platform, having helped more than 2 million people lose weight since it launched in 2009. With its unique platform which includes a Challenge kit to meet each Challengers goals, $47 million in free products, prizes and vacations awarded every year, and its extensive use of social media tools to support its Challengers, its results are proven and the transformations are documented daily.
Every week in 2013 The Challenge awards $10,000 to 10 people who lose 10 pounds with Project 10. You can expect to see Project 10 "I Lost It" t-shirts popping up all over Birmingham, England as people begin their weight loss journey with Vi UK in Birmingham, England.
Obesity rates in the UK are the highest in Europe and have increased dramatically over the past few years to such an extent that in excess of 20% of the population are now obese and the costs to the UK economy exceed £3 billion per year. In Birmingham, over 25% of the population are obese. (Obesity in the UK, University of Birmingham 2013)
"We believe the European marketplace is an opportune environment for ViSalus as our European neighbours are equally challenged by the obesity epidemic that is targeted so effectively by both the Body by Vi™ 90 Day Challenge and ViSalus product offering."
Ryan Blair, ViSalus CEO
That statement is particularly true in Birmingham England where obesity rate soar amongst adults and children alike. The Body By Vi Challenge comes as a proven solution to an epidemic that is causing increasing strain on the economy as more citizens of Birmingham suffer from the diseases that result from obesity such as diabetes, high blood pressure, heart disease, and cancer (http://www.cdc.gov). The Challenge from Vi UK offers a viable way to lose the excess weight and get the nutrition that is required to live in vitality.
Individuals who wish to take the Body By Vi UK 90 Day Challenge can now order online at http://www.ChallengeBirmingham.co.uk and have their Challenge kits shipped from London and delivered directly to their Birmingham, UK address. Birmingham weight loss clinics, health clubs, group fitness instructors and personal trainers can contact Body By Vi UK for distributorship information at the same online address.