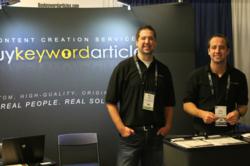 Finding out the content type balance that works for you and your clients is critical when it comes to getting results in today's SEO landscape
Washington Terrace, UT (PRWEB) March 30, 2013
During the last 2 years, Buykeywordarticles.com has emerged as one of the top SEO content providers in the industry. Greg Secrist, CEO of Buykeywordarticle.com, was invited to give a theater presentation at the well-known SMX West tradeshow in San Jose, CA on March 11, 2013. During this presentation, Greg shared sales data for the first quarter of 2013 for Buykeywordarticles.com in order to give the audience some perspective into what the SEO industry is buying, as well as what the most popular products ordered at Buykeywordarticles.com are.
"I get asked all of the time by clients what the "other" guy is ordering. Well stop wondering because here are the numbers!" said Greg Secrist, CEO of Buykeywordarticles.com. For the first quarter of 2013, the sales data at Buykeywordarticles.com showed that traditional "article marketing" SEO articles accounted for over 53% of all content ordered. "For those wondering if article marketing is dead, the simple answer is that no it is not! However, there is a major shift going on right now towards higher quality content. Although article marketing type articles still make up over 50% of most SEO content campaigns for agencies, first quarter data also shows us that specialized content such as Landing Pages, Press Releases and high-end blog posts are being ordered in much higher volumes. SEO agencies are responding to the shift to high quality content and it is showing in their monthly orders." said Greg Secrist.
The presentation shared by Greg Secrist, CEO of Buykeywordarticles.com, gives insight into the content buying trends of large SEO agencies and enterprise companies. Before the Panda and Penguin updates that were rolled out by Google, SEO articles made up well over 90% of an SEO content campaign. Since the Google updates, the industry is seeing a trend in an increase of specialized and customized content purchasing. According to the data, Landing Pages, Page Rewrites, and Branded Blog posts have seen the most dramatic rise in the last 3 months.
"The key to creating a successful content strategy is balance," said Greg Secrist, CEO of Buykeywordarticles.com. "Gone are the days when one content type was all that you needed to make a dent in the search engine rankings. Finding out the content type balance that works for you and your clients is critical when it comes to getting results in today's SEO landscape."
See the Buykeywordarticles content buying trends slideshare presentation here - http://www.slideshare.net/bkacontent/smx-west-presentation-bka-theater-presentation
About Buykeywordarticles.com
Buykeywordarticles.com is one of the leading SEO article content providers on the web today. They have served clients ranging from individual internet marketers to Fortune 500 companies. Their content services include both on-page and off-page content and they provide internet marketing solutions through the use of managed writing teams, dedicated account managers and quality content. To acquire more information on the services that they provide, please visit http://buykeywordarticles.com/.