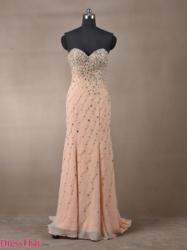 (PRWEB) March 31, 2013
With the summer coming, DressThat.com, a professional online store of wedding dresses and bridesmaid dresses, is pleased to announce the new collection of beach wedding dresses.
The new collection is available in 28 colors and from size 2 to16, including many popular styles, like Princess Strapless Knee-Length Taffeta Wedding Dresses, Sweetheart Short Chiffon Wedding Dresses With Ruffle, and much more. DressThat.com is to give customers one-stop shopping experience, and handmade shoes, jewelry, and veils are available at its website.
Well-known for its chic colors, trendy designs, DressThat.com is a leading supplier of women dresses, and is selling thousands of different women dresses, including elegant wedding dresses, discount bridesmaid dresses, sexy prom dresses, and so on. It is enough to deal with any picky customer.
In addition, DressThat.com is launching a site-wide promotion for the new year, and all the online consumers can get a discount when checking out, up to 59% off. The company promises that products are delivered efficiently within the promised time. Moreover, customers can also contact the store if their desired option or size is not available or if they want a completely custom design.
About DressThat.com
Founded in 2008, DressThat.com has been in existence for more than 5 years, aiming to offer stylish and high-quality women dresses to each woman. The company is supplying a range of women dresses, like discount wedding dresses, cheap prom dresses, and more. Good customer service, high-quality, fast delivery, and competitive prices, are the reasons to choose DressThat.com.