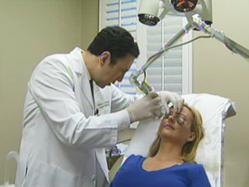 Los Angeles, California (PRWEB) March 30, 2013
According to a briefing paper issued by the American Society of Plastic Surgeons, in 2010 alone, more than 3.2 million surgeries were performed on ethnic patients, representing a 243% increase in this type of elective surgery since 2000. Liposuction, dermal fillers, breast reduction, and Botox are some of the most commonly requested procedures by ethnic patients (Go to goo.gl/XlMVH).
"Our office is in Los Angeles," says Dr. Simon Ourian, Medical Director of Epione Beverly Hills, "so we see a very diverse patient base. I can't say that our numbers reflect exactly those stated in the paper, a 243% increase in ten years is certainly significant."
The goals of ethnic patients mirror the goals of Caucasian patients. The desire for plastic surgery is driven by patients wanting to look younger and reverse the signs of aging, create facial symmetry, and sometimes even reduce the appearance of displeasing features.
The majority of ethnic patients want to retain their ethnic features. Asians, who have naturally almond shaped eyes, want to maintain this shape but often desire a wider, fuller eye. African American plastic surgery patients may want to reduce the size of their nose but not to reshape it so that it appears European.
Plastic surgery on ethnic patients can be challenging due to the fact that some ethnic patients are far more susceptible to unsightly scarring than light skinned patients. The brown pigment melanin, found in ethnic skin, causes this adverse reaction to plastic surgery. Hypertrophic scars appear as raised tissue around the incision line and are commonly found in African American and Asian patients.
The melanin in ethnic skin can cause irregularities in color, which may give the skin a blotchy appearance. Hypopigmentation, the lightening of the skin, as well as a hyperpigmentation, a darkening of the skin, is common. While hyperpigmentation may be reversed within 6-8 months through various treatments, hypopigmentation is often a permanent effect.
"It is absolutely true that aesthetic practitioners need to be very careful when treating darker skin," says Dr. Ourian. "Sometimes different equipment is required. For example, at Epione we generally use a different device when performing laser hair removal on darker skinned patients."
Dr. Ourian has been a pioneer in laser technology and non-invasive aesthetic procedures including Restylane, Juvéderm, Radiesse and Sculptra. These treatments are used for the correction or reversal of a variety of conditions such as acne, acne scars, skin discoloration, wrinkles, stretch marks, varicose veins, cellulite, and others. More information about ethnic patients and plastic surgery can be found on Epione's website.