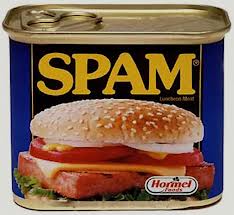 We just wish the spam would stop!
London, England (PRWEB UK) 30 March 2013
As an internet business AFOBI is particularly sensitive to illegitimate online activity. Cybercrime is defined as '..any criminal act dealing with computers and networks.' This includes a wide variety of activities conducted through the internet such as fraud, identity theft and credit card account thefts. Cybercrime is a growing problem, with President Obama recently indicating that it costs US businesses $1trillion per year.
'When we launched our website there wasn't a problem,' comments Zack Newman, director of AFOBI, 'We were able to sell bespoke contemporary kitchens and hardwood oak flooring and wooden tables and chairs through word of mouth; but as we grew and our website got noticed we began to attract spam. Increased spam means increased risk of cybercrime.' In the average week AFOBI receives around 100 emails from bankers, ambassadors and princes promising bank transfers, lucrative business deals or giant inheritance payments. In addition the business receives hundreds of spam advertisements per day. Spam is a problem for business and individuals alike. Kasperky Labs estimate that 144 billion spam emails are sent out daily, more than 70% of all internet traffic.
So how does it work? The process begins with automated software known as 'bots'. The bots are specifically designed to examine websites for email addresses. 'Our company email address is all over our website as text. We want customers to be able to click on our address and send us an email.' comments Zack Newman. 'We could disguise the email address as an image, or hide the address totally and insist that our customers fill in a contact form that the Bots can't complete. But it is essential for our business that we make it easy for our customers to talk to us.'
Just opening a spam email or web-browser can be the first step in becoming a victim of cybercrime. These activities can place malware files onto a computer. If undetected these files can transmit stored data back the cybercriminal via the web. So what can be done? 'We have decided to take a number of additional simple steps to protect our customers,' explains Zack Newman. 'We will no longer store any payment information. We have already deleted all digital payment records. Our virus software will now automatically update every time we turn on our computers. We have purchased SSL security for our website. Most importantly all payments will now take place through an encrypted gateway.'
Viruses are constantly changing so having current antivirus software is clearly important. Many online businesses still allow customers to send bank details directly through the website. Where a payment gateway is used credit or debit card details entered during a transaction are never sent to the sellers website. Where internet merchants use a payment gateway, in the event that a hacker gains access to the website or local network, payment data will not be available and cannot be stolen.
As internet commerce grows we can expect more cybercrime. In most cases the risk to the consumer remains minimal as, when fraud occurs, banks usually refund their customers. 'AFOBI has been fortunate. So far we have sold wooden furniture online without any problems. Neither the business nor our customers have had any problems with cybercrime to date. Although we are constantly updating our systems and won't get complacent. We just wish the spam would stop!' comments Zack Newman.
Notes to Editors
Definition of Cybercrime from Webopedia:
http://www.webopedia.com/TERM/C/cyber_crime.html
Information on Spamhause attack from the Independent:
http://www.guardian.co.uk/technology/2013/mar/27/cyber-attack-spamhaus-slows-down-internet
Spam statistics from the Independent Newspaper:
http://www.independent.co.uk/life-style/gadgets-and-tech/features/the-webs-oldest-dark-art-can-spam-be-canned-8552291.html
To comment please click here.